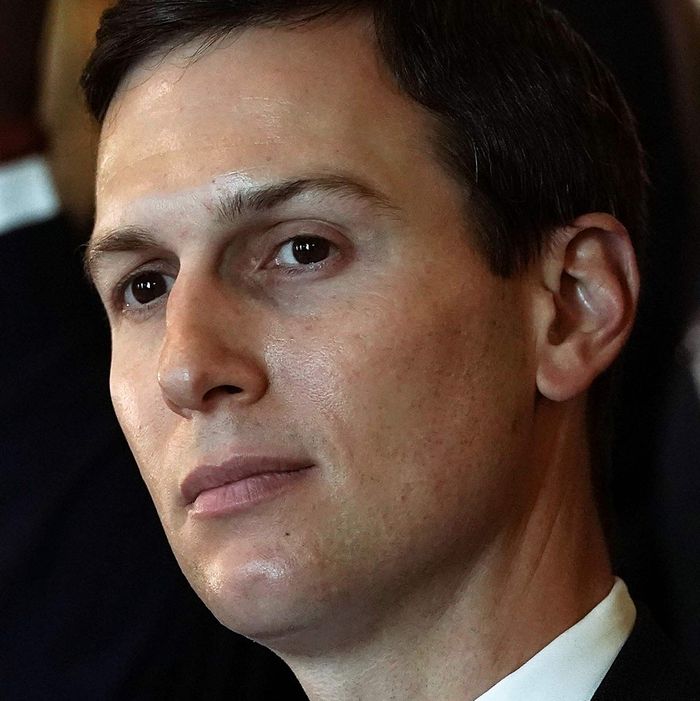 Kushner.
Photo: Alex Wong/Getty Images
Jared Kushner is among the Trump administration's top foreign-policy advisers, and the chief architect of its plans for bringing "peace" to the Middle East. He requests more classified intelligence from America's spy agencies than any other White House employee except for those who serve on the National Security Council. And yet, he still hasn't obtained a permanent security clearance — and quite possibly never will.
Why the president's son-in-law has been unable to pass the background check necessary for securing indefinite access to state secrets isn't entirely clear. The most obvious explanation is that Kushner has had to revise his disclosure form regarding foreign contacts three separate times — on each occasion because he had failed to "remember" certain conversations he'd had with foreign entities.
But there is another (potentially related) red flag in the senior adviser's background: Kushner's family is massively indebted due to a poor investment decision that he made — and must secure hundreds of millions of dollars in new capital by early 2019 to avoid a financial calamity.
Which is to say: Any foreign government willing to nudge some investors toward Kushner Companies could conceivably exert undue influence over the White House adviser.
And that prospect looks all the more conceivable, given Kushner's actions immediately after the 2016 election. During the transition period, Kushner (reportedly) met with the chairman of the Chinese firm Anbang Insurance, in hopes of securing a $400 million investment in his family's flagship property at 666 Fifth Avenue. Meanwhile, his company also (reportedly) sought $500 million in capital from the former prime minister of Qatar for the same project.
Now, it appears that those dealings have piqued the interest of Special Counsel Robert Mueller. As CNN reports:
Mueller's investigators have been asking questions, including during interviews in January and February, about Kushner's conversations during the transition to shore up financing for 666 Fifth Avenue, a Kushner Companies–backed New York City office building reeling from financial troubles, according to people familiar with the special counsel investigation.




… One line of questioning from Mueller's team involves discussions Kushner had with Chinese investors during the transition, according to the sources familiar with the inquiry. A week after Trump's election, Kushner met with the chairman and other executives of Anbang Insurance, the Chinese conglomerate that also owns the Waldorf Astoria hotel in New York … Mueller's team has also asked about Kushner's dealings with a Qatari investor regarding the same property, according to one of the sources. Kushner and his company were negotiating for financing from a prominent Qatari investor, former prime minister Hamad bin Jassim Al Thani, according to The Intercept. But as with Anbang, these efforts stalled.
CNN's dispatch offers no details on what Mueller may have been looking for with these questions. Kushner, for his part, denies they were ever asked. But there is a potential link between these conversations and the probe into the Trump campaign's relations with Russia: During the same period, Kushner met with Sergey Gorkov, head of Russia's state-run Vnesheconombank. Once the meeting became public, Kushner insisted that he'd met with Gorkov as a representative of the incoming administration, not as a businessman. Gorkov insisted the very opposite.
Regardless, all of this serves as reminder that Kushner's employment in a top White House position is itself a scandal. The 37-year-old has no experience in public service or policymaking. His only qualification for his senior White House position (beyond having been born and betrothed to the right people) is the business savvy that allowed him to avoid squandering his family's enormous fortune. And he may soon forfeit that measly résumé item.
In 2007, Kushner's killer instinct told him that the real-estate market had nowhere to go but up. And so the would-be mogul decided to plow $500 million of his family's money — and $1.3 billion in borrowed capital — into purchasing 666 Fifth Avenue for twice the price it had previously sold for. Even if we'd somehow avoided a global financial crisis, this would have been a bad bet: Before the crash, when the building was almost fully occupied, it generated only about two-thirds of the revenue that the Kushners would need to keep up with their debt payments.
After the crisis, however, things got really hairy. The Kushners were forced to sell off the building's retail space to pay their non-mortgage debt on the building — and then to hand over nearly half of the office space to Vornado as part of a refinancing agreement with the real-estate giant.
The office space that the Kushners retained is worth less than its $1.2 billion mortgage — which is due early in 2019. If their company can't find some new scheme for refinancing and redeveloping the property by then, Kushner will have cost his family half a billion dollars.
According to the Intercept, Kushner had little luck finding interested investors — until his father-in-law won the presidency, and the Chinese and Qataris came knocking. Perhaps this was a coincidence. But it's reasonable to observe that, while $500 million is a lot of money in most contexts, as the price of winning the allegiance of the world's most powerful military in a regional dispute, it could strike some nations as quite the bargain.
Even if Kushner weren't subject to such massive conflicts of interest, his presence in the West Wing would be scandalous, due to his copious lack of relevant experience. With those conflicts, his position is indefensible — no matter what more Mueller finds.