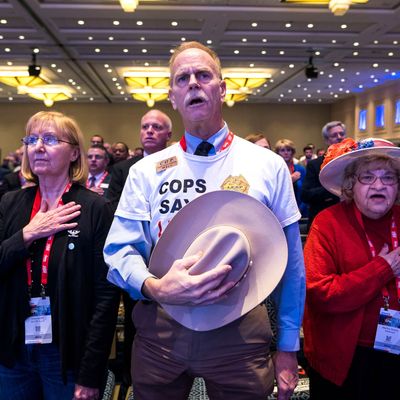 Not Hillary Clinton fans.
Photo: Jim Lo Scalzo/EPA-EFE/REX/Shutterstock
Former Breitbart News editor Ben Shapiro was one of the many conservative personalities to take the stage at CPAC Thursday and celebrate the man in the White House.
At one point during his speech, Shapiro listed Trump's accomplishments since taking office, including last year's tax bill and the "defeat of ISIS."
He finished his list with this: "Most of all, President Trump brought us one really fantastic thing — Hillary Clinton is not and will never be president of the United States." The crowd went wild, and 471 days after the presidential election, erupted into a chant of "lock her up."
"Why bother, she's already in a jail of her own making somewhere in the woods in upstate New York," Shapiro said, displaying the trademark wit that has the Times calling him "the cool kid's philosopher" in November.