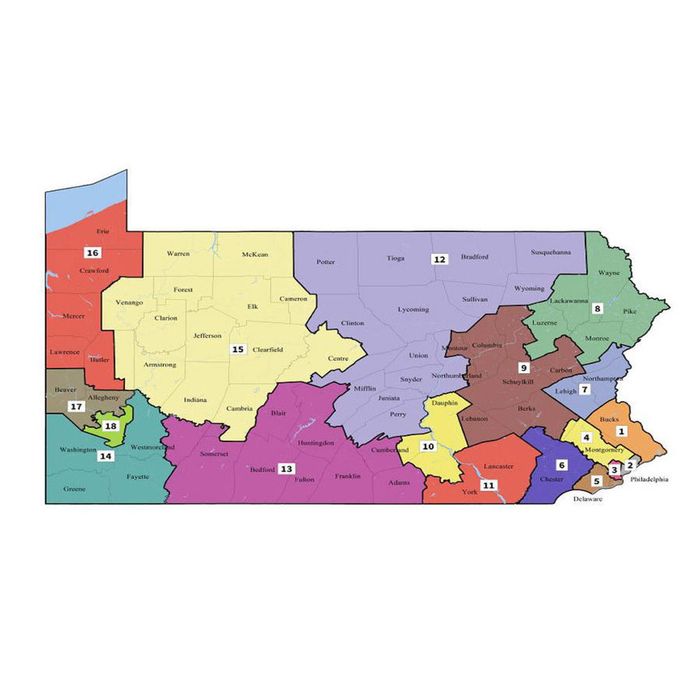 The new map.
Photo: Supreme Court of Pennsylvania
Pennsylvania's Supreme Court issued a new, redrawn map of the state's congressional districts on Monday, and it looks very good for Democrats.
The map, which the court had ordered after ruling that the current version is overly partisan, does away with the wackily shaped districts that are the hallmarks of gerrymandering. It features contiguous districts that split far fewer counties, and, as a bonus, is far easier on the eyes.
Currently, Republicans hold 13 of the 18 congressional seats in Pennsylvania, even though the state voted for President Trump by just 0.72 percent (and, before that, had voted Democratic in every presidential election since 1988). Pennsylvania is often listed as one of the most gerrymandered states in the country, and its congressional map features a number of bizarrely drawn boundaries whose only practical purpose is to keep Republicans in power. (One district, outside of Philadelphia, has been nicknamed "Goofy Kicking Donald Duck.")
The new map means that Democrats can expect to compete in the majority of the 18 congressional races in November, with experts generally concurring that they could pick up more than ten seats. Democrats need 24 seats total to take back the House of Representatives, so this could have enormous implications for control of Congress.
In a 5-2 decision last month, the state Supreme Court ruled that the current map, drawn in 2011 after Republicans had swept to power in the state legislature the previous year,  "clearly, plainly, and palpably" violated the state constitution. It ordered a new map drawn before primary elections on May 15.
The court gave state Republicans the chance to devise their own version, but Governor Tom Wolf, a Democrat, refused to adopt it because it was too close to the status quo. So the court enlisted Nathaniel Persily, a Stanford professor of law who has experience redrawing districts in other states, to help come up with an entirely new model.
Pennsylvania Republicans, who claim that the Supreme Court is overstepping its bounds by usurping the duties of a state legislature, will not go down without a fight. They are certain to challenge the map in federal court — though given that the Supreme Court has already declined to get involved with the case because the original ruling was based on state law, it's unclear how good their chances are on that front.
Exhibiting the knack for bare-knuckle politics that led to the gerrymander in the first place, one Republican has threatened to impeach the judges who ordered the new map.
For now, Democrats are reveling in the end of an unpleasant era. In a statement, Wolf said: "I applaud the court for their decision and I respect their effort to remedy Pennsylvania's unfair and unequal congressional elections."