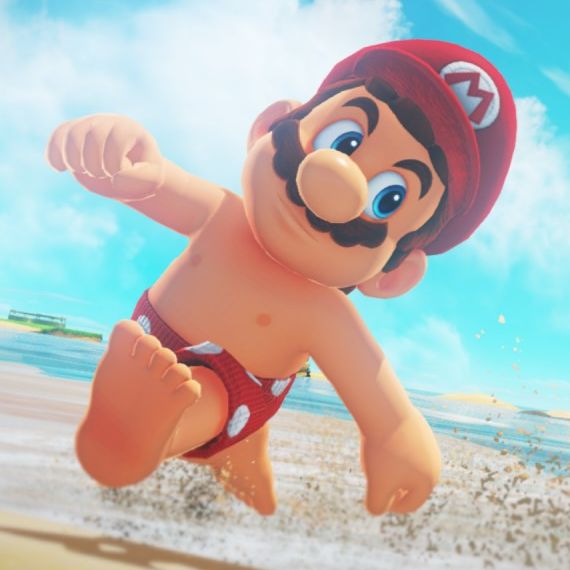 When screenshots came out last year showing a shirtless Mario with nipples (but no visible belly button), the internet lost its collective shit. As we wrote at the time:
Mario has nipples and people are excited (???) about it. He's on a beach, in his swim trunks, and his areolae are on full display.
Once the world got its hands on Super Mario Odyssey, it was truly confirmed. Mario has a pigmented projection on the surface of his chest, and there's nothing you or I or anyone can do about it.
The one person who could do something about it is Yoshiaki Koizumi, the director of Super Mario Odyssey. Nintendo released a video today in which Koizumi answers hard questions head-on.
Question one: "Why does Mario have nipples, but no belly button?" After a brief pause and joking, "So, we're jumping right into that question, are we?" Koizumi answers: "Once I heard that people were talking so much about Mario's belly button, it made me start to think about whether we should revisit the topic on the design side." It's a bit of a dodge, but at least the conversation has begun.
Frankly, the bigger news and indication that the Mario series may be slipping into the body-horror genre comes in question two: Toad, a kind of servant to Princess Peach, isn't wearing a hat. That bulbous white-and-red thing? That's his head. "I'm going to have to leave it to all of you to figure out exactly how that works out," says Koizumi. I may never sleep again.