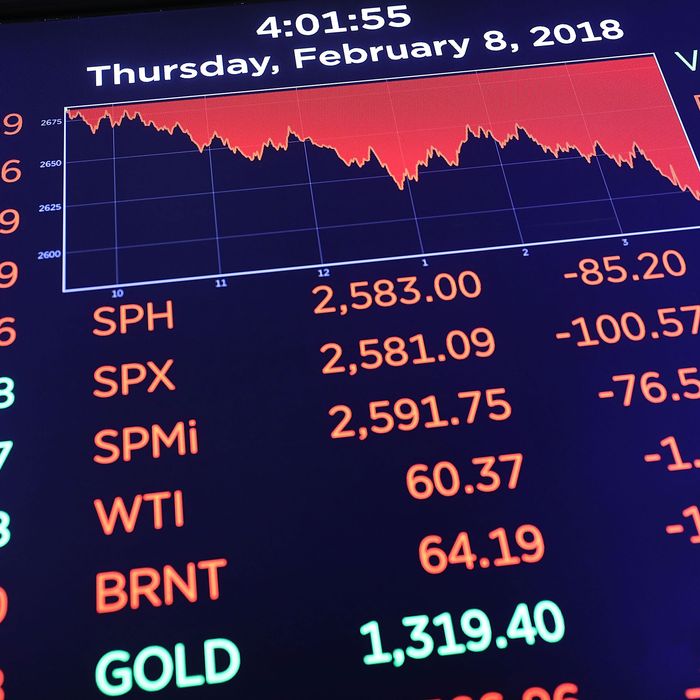 It's not the best time to be triumphalist about the economy.
Photo: Spencer Platt/Getty Images
Okay, this is no longer a "blip" or a "hiccup" in equity markets. From a technical point of view, it's called a "correction" with Dow Jones stocks losing more than 10 percent of their value in a short period of time (since January 26, to be exact). Today the Dow dropped 1,032 points, the second day this week of four-digit losses. The Wall Street Journal writes:
The technology-laden Nasdaq and the broad Standard & Poor's 500-stock index also tripped lower throughout the day — and each ended with a loss of nearly 4 percent. Trading volumes were 50 percent above normal.




The 2018 gains for the Dow and S&P have been wiped out.
There's no particular reason to think the "correction" is over, either, at least until fears of higher-than-expected interest-rate hikes abate. If nothing else, it means the markets are wringing out the "excessive" gains of late 2017 that had so many cheerleaders, especially in the White House and the Republican ranks in Congress. And at this point the losses aren't just going to be on paper:
"Ten percent is no small potatoes," said Chris Rupkey, an economist with MUFG Union Bank. "It's a big number. That loss of wealth is going to take a toll on overall spending in the economy both for businesses and individuals."
And it's not exactly the ideal time for the federal government to raise its budget deficits and its public borrowing plans, either, as Bloomberg reports:
That is "exactly the opposite of what the economic textbooks say lawmakers should be doing," Mark Zandi, chief economist of Moody's Analytics Inc., said in an email. "Deficit financed tax cuts and spending increases in a full-employment economy will result in more Fed tightening and higher interest rates."
And that presumably will mean more money migrating from stocks to bonds, and more volatility in the markets.
So as Jurassic Park engineer John Arnold liked to say: "Hold onto your butts." And if you are a Republican, you might want to put a lid on the economic triumphalism for a bit in case it comes back to haunt you.