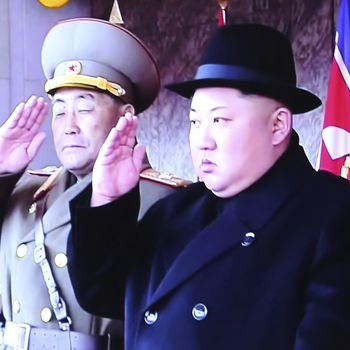 North Korea held a military parade on the day before the Olympics.
Photo: Young-joon/AP/REX/Shutterstock
If the Trump administration decides to move forward with the proposed military parade that's being kicked around in Washington, Vice-President Mike Pence, who is in South Korea for the Olympics, can bring back some tips on how they do it in Pyongyang.
On Thursday, North Korea filled the capital city's Kim Il-sung Square with tanks, missiles, and troops for a parade to mark the 70th anniversary of the founding of the North Korean military.
In a speech to the throngs of people who assembled in the sub-freezing temperatures, Kim, who arrived in a limo and walked to his balcony perch on a red carpet, said the parade would show the world that North Korea "has developed into a world-class military power."
Holding the parade on the night before the Olympics' opening ceremonies in South Korea was a "diplomatic poke in the eye" to South Korean president Moon Jae-in, CNN reports. Others have suggested that the decision to not broadcast the parade live — it was recorded and shown later in the day — was evidence that the North was trying to keep a lower profile.
Tape delay or not, the parade was watched closely in South Korea, where Pence arrived Thursday. In a speech there, Pence said the U.S. wants to "make sure North Korea doesn't use the powerful symbolism in the backdrop of the [Games] to paper over the truth about their regime."
The parade would seem to defy those wishes. By flaunting its military might, North Korea is also believed to be attempting to further drive a wedge between the U.S. and South Korea. While Kim is sending his sister to meet with the South's President Moon during the Olympics, he's trotting out missiles and criticizing the "U.S.'s hostile policy against North Korea."
Lastly, the parade comes as President Trump has asked the Pentagon to look into holding a military parade of its own. And within days, Kim has provided a helpful reminder of the kind of authoritarian tyrants who do such things.