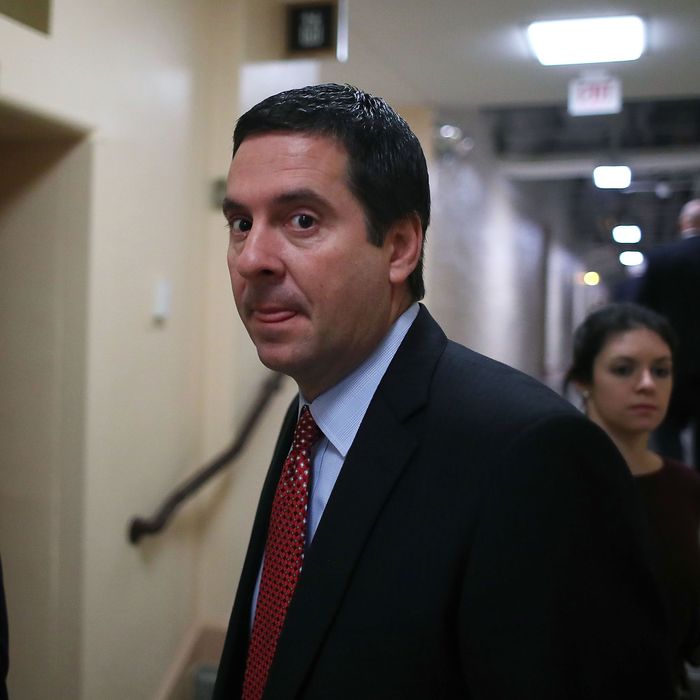 Has this "overeager goofball" gone so far as to risk his own reelection in a solidly Republican district?
Photo: Mark Wilson/Getty Images
More each day, House Intelligence Committee chairman Devin Nunes, a Republican from California, is making himself the tip of the spear of White House efforts to discredit the Mueller investigation of possible collusion between the Trump campaign and Russian meddlers — and of possible obstruction of justice by Trump as president. Moreover, the means deployed by Nunes to achieve this political goal, as reflected in the apparent allegations contained in the internal memo he and his staff prepared and are trying to get into the public domain, involve discrediting the independence of the FBI.
This is a pretty big reach for a relatively obscure GOP member of Congress, whose investigatory skills were sardonically compared to those of the bumbling Inspector Clouseau of the Pink Panther films by Senator Lindsey Graham. Having committed his committee early on to maximum defense of Trump and his associates via ever-more-dubious allegations of misconduct by, well, everyone else, Nunes has now gone far down the rabbit hole of conspiracy theories, and is making allegations that if accepted would require a massive purge of federal law-enforcement personnel to "cleanse" them of anti-Trump bias. And now he may have been caught by the ranking minority member of his committee, fellow-Californian Adam Schiff, in altering his classified memo before sharing it with the White House.
No matter how this all turns out, Nunes is attracting an astonishing amount of attention to himself, and is out on a political limb that looks less stable every day. The question that is inevitably being asked is whether this man once described by a close working associate as an "overeager goofball" is making himself vulnerable to a tough race or even defeat this autumn.
At first glance you'd figure Nunes to be pretty safe. His Central Valley district (rated as eight points more Republican than the national average by the Cook Political Report) gave Donald Trump a nine-point winning margin in 2016. Nunes himself won 68 percent. Republicans have a 43/33 registration advantage in the 22nd District, centered in the Republican-trending parts of Fresno and Tulare Counties.
But Nunes's increasingly bizarre behavior is giving unlikely oxygen to his most prominent Democratic challenger, local prosecutor Andrew Janz, who created something of a buzz in December by erecting billboards showing the incumbent on a child leash (along with the president) held by Vladimir Putin.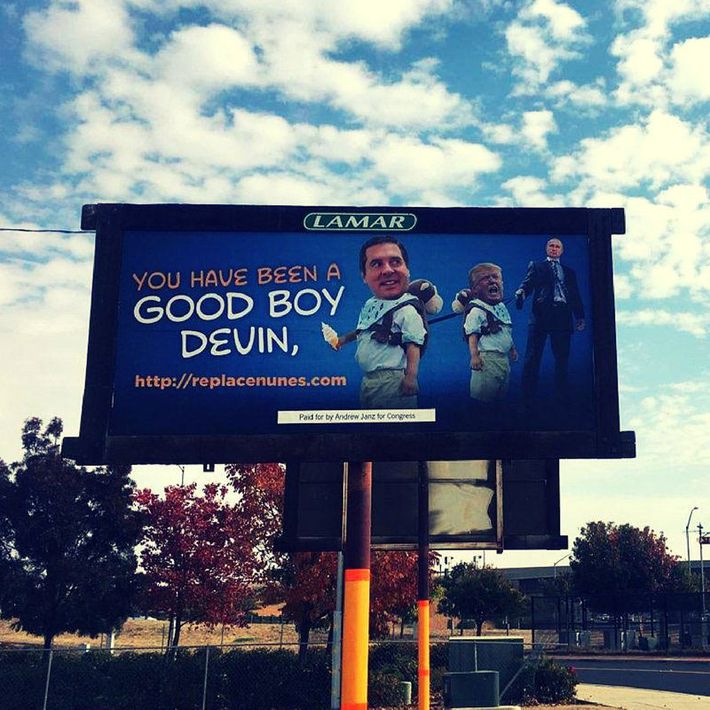 More tellingly, Janz commissioned a poll from Public Policy Polling earlier this month that showed a generic Democrat within five points of Nunes (who led 50/45). The survey also suggested independents were breaking pretty heavily against the incumbent, which is exactly what a Democrat would need in this district.
This district is still a tough sell for any Democrat. But if Democrats regain the kind of big national lead that generic congressional ballot tests were showing for much of 2017, then an upset is not out of the question — particularly if Nunes continues to make himself the most exceptional of Republican members of Congress, willing to tear down Washington and tear up federal law enforcement to protect his beloved leader.