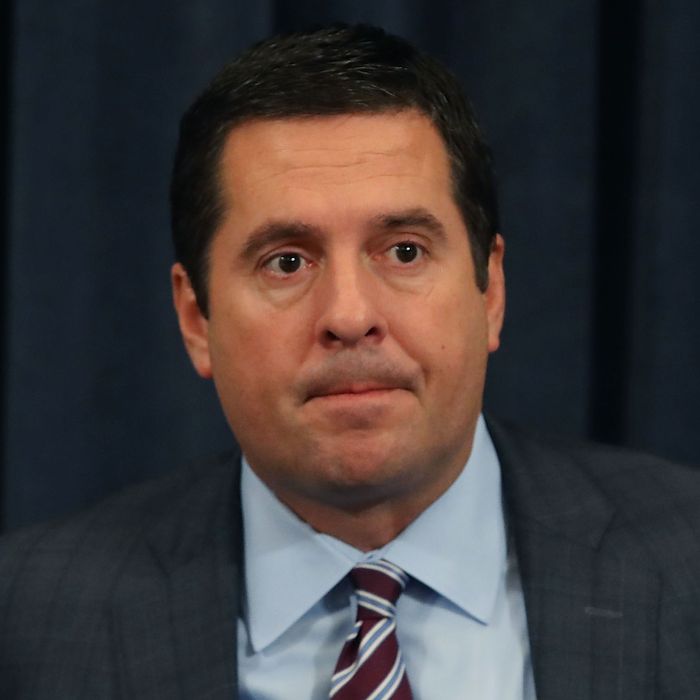 Nunes Had Nothing.
Photo: Mark Wilson/Getty Images
The central, and most damaging, accusation in the memo published Friday by House Republicans is that the FBI failed to disclose the bias of one of its sources when it applied to wiretap Carter Page. "Neither the initial application in October 2016, nor any of the renewals, disclose or reference the role of the DNC, Clinton campaign, or any party/campaign in funding [British agent Christopher] Steele's efforts, even though the political origins of the Steele dossier were then known to senior and FBI officials," charged the memo. That was hardly explosive, or the kind of damning failure that would send people to prison or be worse than Watergate, as Trump defenders charged. But it was something. If true.
It's not true. As the Ellen Nakashima reported, the application to wiretap Page did disclose that one of the sources of intelligence to generate suspicion that Page might be acting illegally came from a political source. It was mentioned in a footnote on the FISA application. Nunes was asked about this on Fox & Friends. He did not deny the point. Instead he insisted that it wasn't good enough because the disclosure was merely a footnote. "A footnote saying something may be political is a far cry from letting the American people know that the Democrats and the Hillary campaign paid for dirt that the FBI then used to get a warrant on an American citizen to spy on another campaign," the distinguished Republican explained.
Notice how "The FBI LIED about the Steele dossier" has been scaled back to, "The FBI did not highlight the truth about the Steele Dossier in the part of the application we bothered to read." So now the main attack on the FBI is about font size. No doubt all the subsequent memos Nunes is promising to release will have additional bombshells.