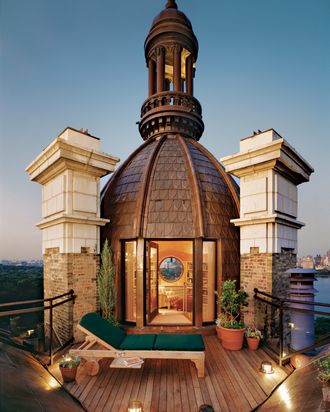 The outside of an Upper West Side turret.
Photo: Paul Warchol
A survey of the turrets about town — the city's tiny medieval towers on the Upper West Side, in Crown Heights, and on Staten Island.
The Turret With a Deck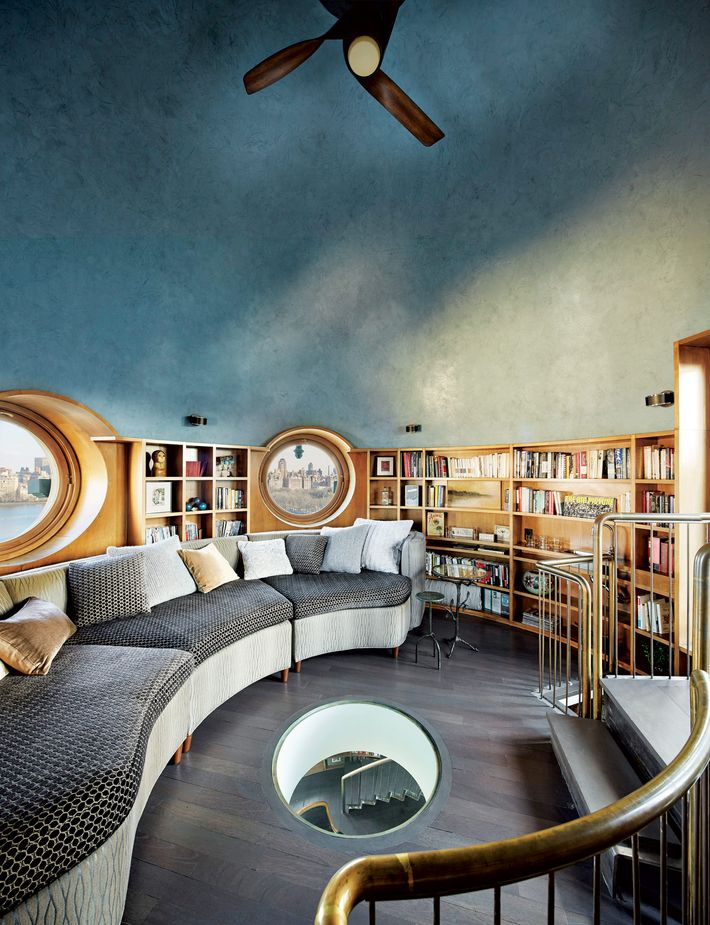 "When we moved in, we had to have almost all of the furniture built specially for the space — circular bookshelves, a special curved couch. The couch is comfortable enough to sleep on, so sometimes our guests stay up there. For them, we also had these special shades built for the porthole windows. They are freestanding, sort of like pillows you can fit into the window. There was a deck already built off the second floor of the thing, but we had long grass put in and bought a couple of lounge chairs. Really, it's heavenly — I feel like the luckiest man in the world when I'm up there." — Josh Sapan, entertainment executive, Upper West Side
The Turret That Shifted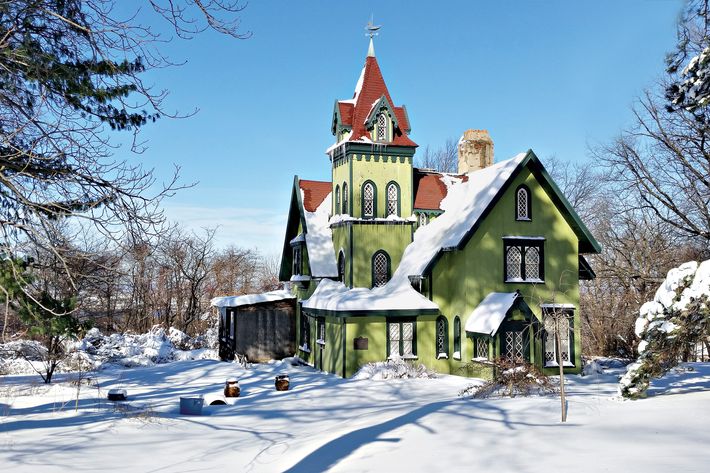 "A couple of years ago, the turret actually shifted — there was a beam that moved during a renovation of the bathroom below. It was tilted about a foot — I had it fixed, and now it's only four or five inches off. People always used to say that the room looked like a church. So lately I've started to decorate it with a lot of religious statues and a church bench. For all the furniture in the house, I try to stick to Gothic style so it matches the structure, though it's hard to find and is extremely expensive. I do need my television and computer and that stuff — I keep all that in one room downstairs." — Edwin Calderon, physician's assistant, New Brighton, Staten Island
The Turret That Was Just Renovated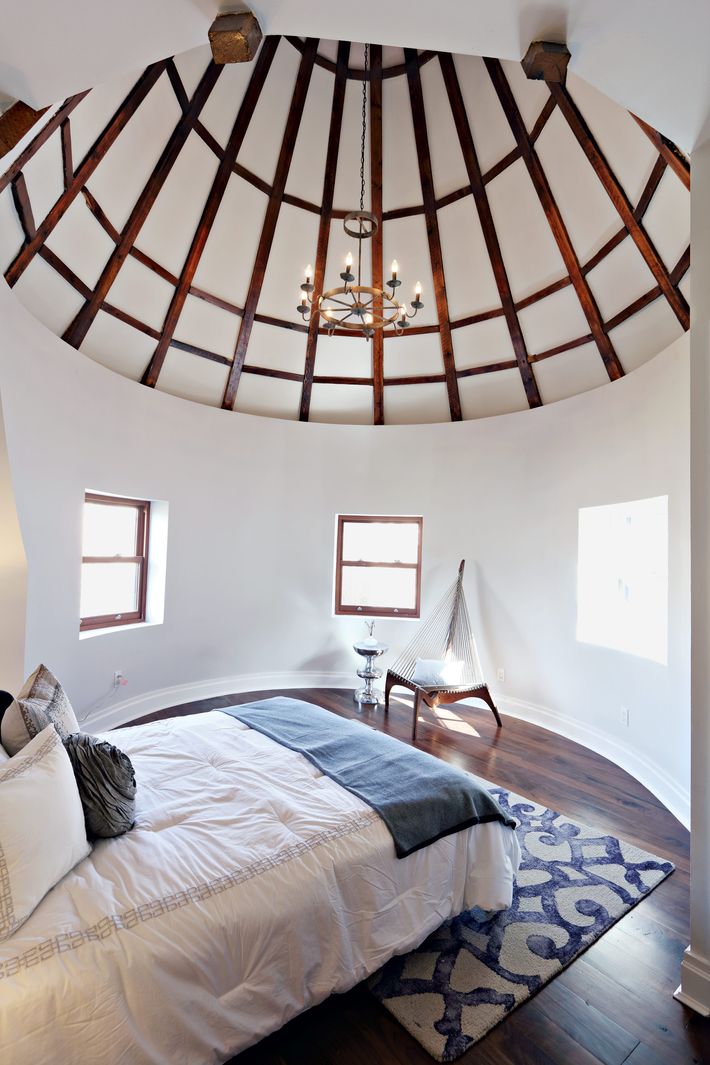 "I bought this building in 2016. When we started the renovation, the ceiling was covered with several layers of plaster. So we removed the rest of the ceiling and discovered the original framing of the turret was there, intact, from the day it was built in 1888. Before we bought the building, the city landmarked it. The last owner had put flat glass in the curved windows, but according to landmark regulations, those had to be replaced with curved glass that resembled the originals. It was expensive — each window was about $18,000 to redo." — Amber Mazor, developer, Crown Heights
The Turret in the Making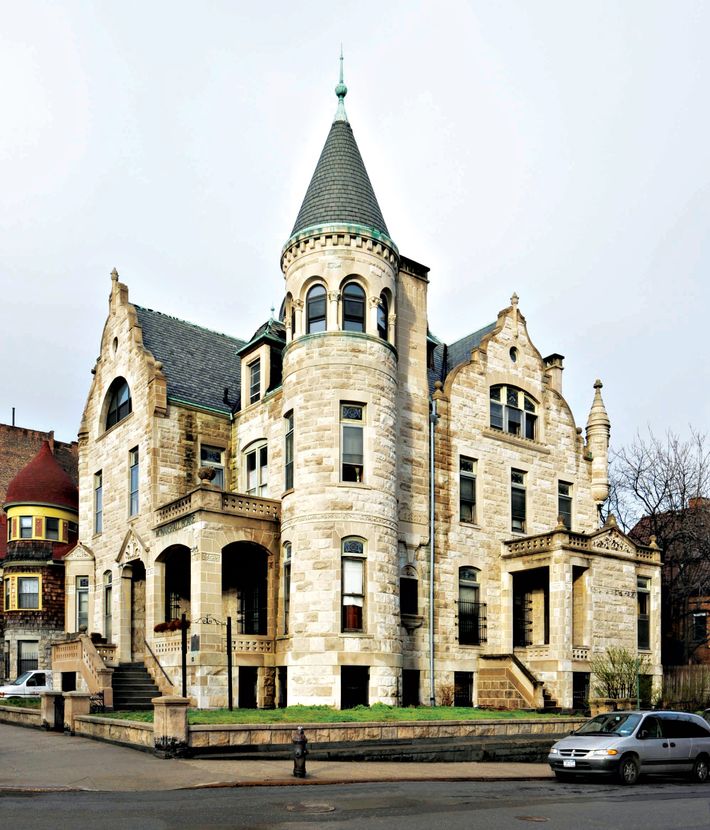 "The house was built in 1886 for James Bailey of Barnum & Bailey. We've owned it for nine years and are still restoring it — we haven't gotten to the room inside the turret yet. The house has more than 70 windows, including seven in the turret, all of which require curved glass to fit the structure. To get curved windows that fit exactly, there's a mathematical formula you have to follow — basically, you figure out the exact degree of the curve, then send that out to a glassmaker.
As for the inside of the turret room: We plan to turn it into a dining area with a round banquette and a round table in the center." — Martin Spollen, physical therapist, Harlem
The Turret That's a Hotel Suite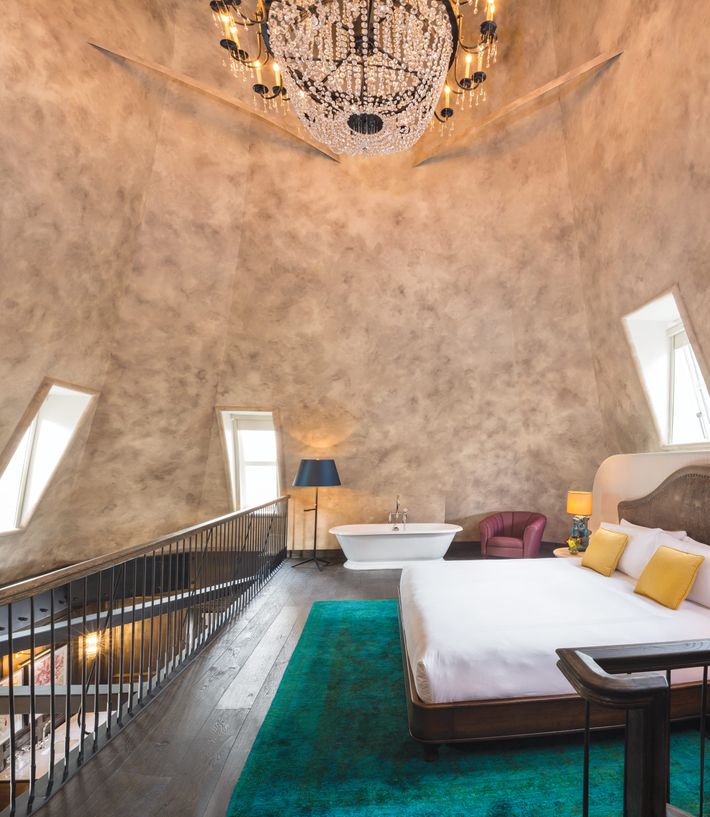 This past October, the Beekman Hotel unveiled its two "turret suites," designed by the architect Martin Brudnizki. The 1,200-square-foot rooms are each two floors, with 40-foot ceilings, Catherine Howe floral monotypes, and Beaux-Arts-inspired chandeliers. "The rooms are very 'writer's-apartment attic,' " says Brudnizki. "We used oak floors, vintage Persian rugs. They also feel particularly private. Because who would expect someone to be staying inside the turrets of a 19th-century landmarked building?" ($6,500 a night, thebeekman.com, Financial District.)
The Turret for Sale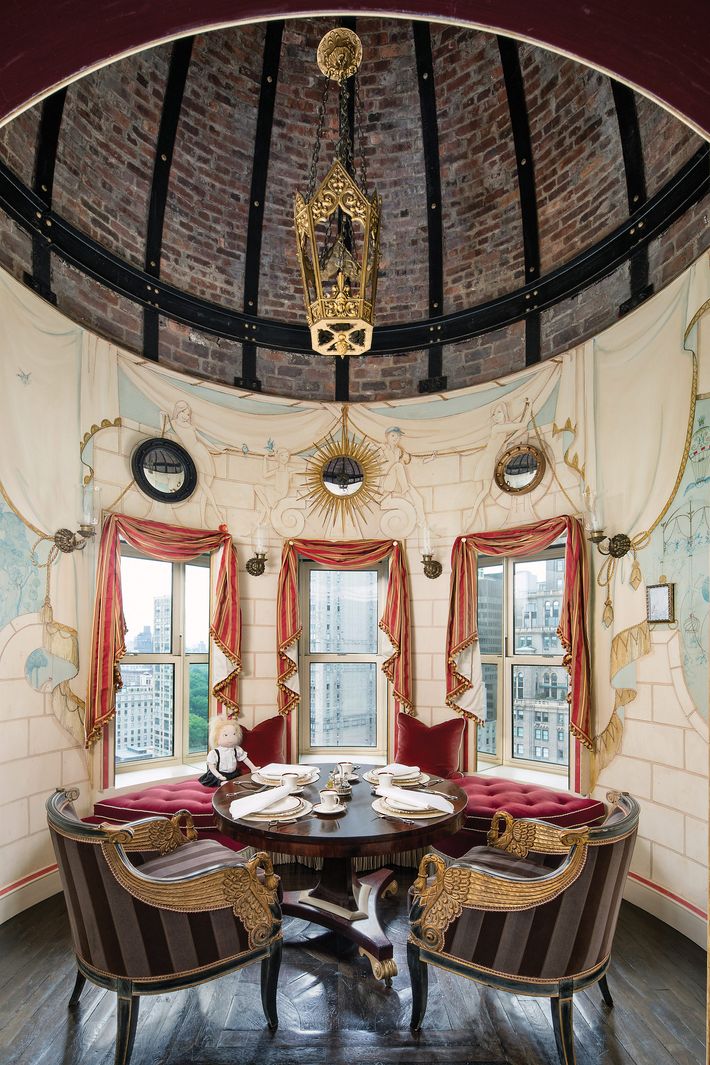 "I wanted to keep part of the Plaza's history, and I thought the turret would be perfect for an Eloise breakfast room. Instead of hanging art on the wall, I hired the original illustrator, Hilary Knight, to hand-paint the mural. I'm so in love with the domed ceiling, too — I hung a chandelier from the old New York Times Building from it that I got at a Sotheby's auction. Or Christie's, I can't remember which. The turret has its own temperature control, as do most of the rooms in the apartment, so it doesn't get drafty. The room has become a favorite nook to start our day in. And it also makes it very easy to point out my home as the northern turret of the Plaza." — Tommy Hilfiger, fashion designer, Midtown ($50 million, sothebyshomes.com.)
Turrets don't necessarily add value on their own.  "I see them as part of a basket of amenities, like fireplaces and hardwood floors, that connote prewar," says appraiser Jonathan Miller of Miller Samuel. "And prewar means an increased value."
Why are there so many in New York?
Though turrets may evoke charming European hill towns more than, well, New York, there are actually quite a lot of them here. The majority of New York City turrets were built in the late-19th century, when affinity for the Romanesque revival, a style influenced by 11th-century medieval architecture, reached a fever pitch: "Areas like the Upper West Side, Park Slope, and Crown Heights developed in the 1880s and 1890s," says historian Andrew Dolkart. "And that was truly the heyday of turrets."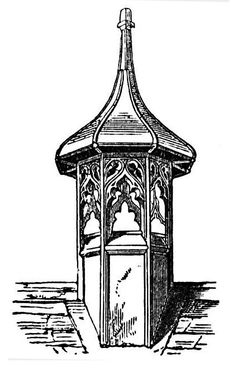 1877: The Jefferson Market Library building is erected on Sixth Avenue as a courthouse, and it features one of New York's earliest turrets: a 172-foot pyramidal tower with clocks on four sides.
1887: New York's first cancer hospital is built on Central Park West, with five massive turrets used as patient wards. The turrets were functional: The idea was that dirt and germs would not be able to accumulate in corners if there were no corners. In the early aughts, the building was converted into luxury condos.
1914: The Municipal Building is built with four small pinnacle turrets, symbolizing the four boroughs joined to Manhattan.
2000: Wes Anderson rents a Hamilton Heights building on 144th Street and Convent Avenue for six months to shoot The Royal Tenenbaums.
2014: Developers "renovate" an elaborate 19th-century pressed-metal turret on Stuyvesant Avenue in Bed-Stuy into a dowdy stucco façade. Neighbors are incensed.
2017: Staten Island's Kreischer Mansion, which is known as one of the most haunted places in all of New York and also happens to have a particularly impressive turret, goes up for sale. Since it was built in 1885, the property has seen a suicide, a fire, and a Mafia-related murder — and it served as an occasional set for Boardwalk Empire.
*This article appears in the February 19, 2018, issue of New York Magazine.