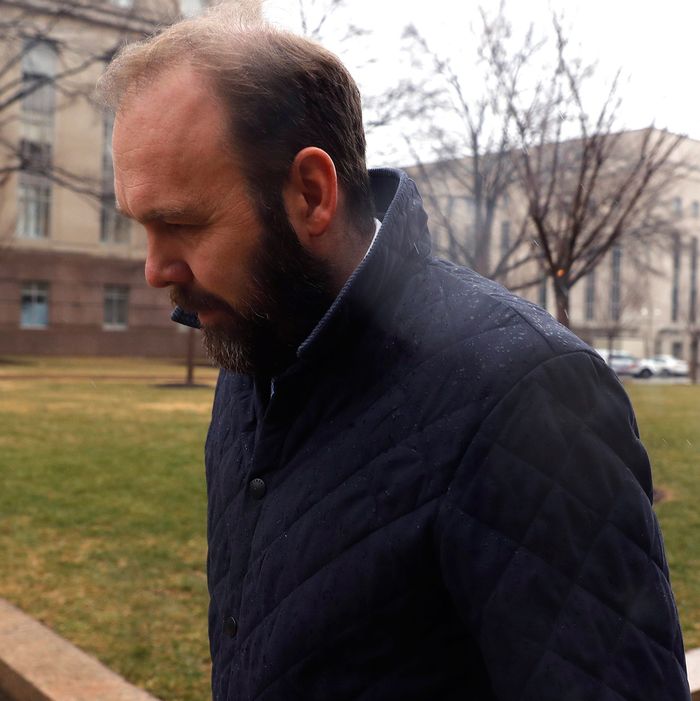 Former Trump aide Rick Gates.
Photo: Aaron P. Bernstein/Getty Images
Former Trump campaign aide Rick Gates pleaded guilty Friday to two charges brought by Special Counsel Robert Mueller and promised to cooperate with the investigation into the Kremlin's possible interference in the 2016 presidential election.
Gates, who admitted to charges of conspiracy and lying to the FBI, could face up to 71 months in prison. He could serve less time depending on how much he helps prosecutors though, U.S. District Judge Amy Jackson said in court Friday.
In his plea, Gates admitted to conspiring to defraud the U.S. from 2006 to 2017 by using offshore accounts to hide money he and Paul Manafort, his longtime partner and the former Trump campaign manager, received while working for Ukraine.
He also copped to lying to the FBI just a few weeks ago. On February 1, Gates told the FBI that Ukraine was not discussed during a 2013 meeting with Manafort, Representative Dana Rohrbacher, and others. That was not true.
Manafort put out a statement Friday following Gates's guilty plea:
"Notwithstanding that Rick Gates pled today, I continue to maintain my innocence. I had hoped and expected my business colleague would have had the strength to continue the battle to prove our innocence. For reasons yet to surface he chose to do otherwise. This does not alter my commitment to defend myself against the untrue piled up charges contained in the indictments against me."
In a letter to loved ones obtained by ABC News before the plea hearing, Gates wrote that "despite my initial desire to vigorously defend myself, I have had a change of heart."
He went on: "The reality of how long this legal process will likely take, the cost, and the circus-like atmosphere of an anticipated trial are too much. I will better serve my family moving forward by exiting this process."
Gates's plea comes with an agreement to cooperate with Mueller's investigation, but what form that will take is unclear. He is likely to testify against Manafort, as was reported over the weekend, but does he have anything to say about potential collusion between the Trump campaign and the Russian government during the 2016 election?
It's certainly possible given his roles on the campaign. Gates joined the campaign with Manafort and remained involved even after Manafort's departure in August of 2016. The 45-year-old Gates went on to lead the campaign's efforts at the Republican National Convention and served on Trump's transition team.
Gates's cooperation with Mueller is pretty clearly bad news for Manafort. What remains to be seen is whether he has the goods on anyone else.