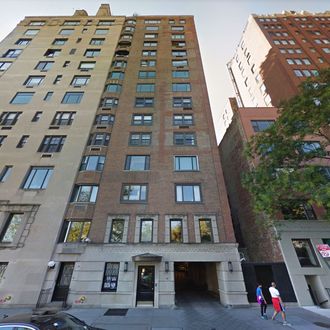 10 Gracie Square.
Photo: Google
Not too long after Barack and Michelle Obama inked a $65 million book deal last year, media reports bubbled up that the couple was on the verge of purchasing an apartment at 10 Gracie Square, an Upper East Side co-op building known for its understated but well-heeled tenants.
But whatever may have been in the works is now dead. A source close to the Obamas told Daily Intelligencer that the couple has no near-term plans to place a bid on any apartment at 10 Gracie Square, and likely will not ever do so. This person asked to speak on background.
"It's not happening," the source said. "They certainly did not submit an application, and this never got to the point where a deal was even being floated."
The Obamas' interest in 10 Gracie was first reported by the New York Post in October. The tabloid reported that the couple had been seen entering the building for "viewings," and cited speculation from "real estate insiders" that they were the unnamed buyers of a duplex designed by Daniel Romualdez that had gone under contract for $10 million around the same time. In a subsequent report, the Post suggested that the deal was nearly closed, pending co-op board approval.
At the time, The Real Deal noted that board approval would be far from automatic. "Whether you like their politics or not, [you] still have the practicality of having a neighbor with bodyguards," said Kirk Henckels, vice-chairman and director of Stribling Private Brokerage. "I think they would have trouble with any co-op board, just like Nixon did." (Richard Nixon was rejected by two Manhattan co-op boards.)
Having the former president as a tenant also would have left 10 Gracie Square susceptible to protests like the "die-in" demonstration held outside the Obamas' Chicago home in 2016 and media stakeouts like Jeanine Pirro's stalking of Hillary Clinton in Chappaqua for Fox News.
The sudden boost in profile would have been antithetical to the culture of the building, which values quietness over prestige, said one former resident. "These are inherently private people," this person said.
Secret Service details also tend to impose inconveniences. Property values in Trump Tower dipped after Donald Trump won the 2016 election, in no small part because of the security-related headaches its residents faced. While brokers tried to spin the building as being extra safe, the experience of those who lived there was more about the annoyance of blocked food deliveries and bag searches in the lobby. The procedures for an ex-president would be less intrusive — but how much less so?
Former residents at 10 Gracie Square include Brooke Astor and Gloria Vanderbilt — and also Madame Chiang Kai-shek, the former First Lady of China. Chiang had her own security team, but observed standards that probably wouldn't fly with the Secret Service. "She would ride the elevators with armed guards, and she'd kick the guards out when kids would board the elevator," said the former tenant.
Last year, the Obamas snapped up an 8,200-square-foot home in the Kalorama neighborhood in Washington, D.C., for $8.1 million. It is unclear if they are eyeing other locations in New York City, now that their interest in 10 Gracie Square seems to have fizzled.