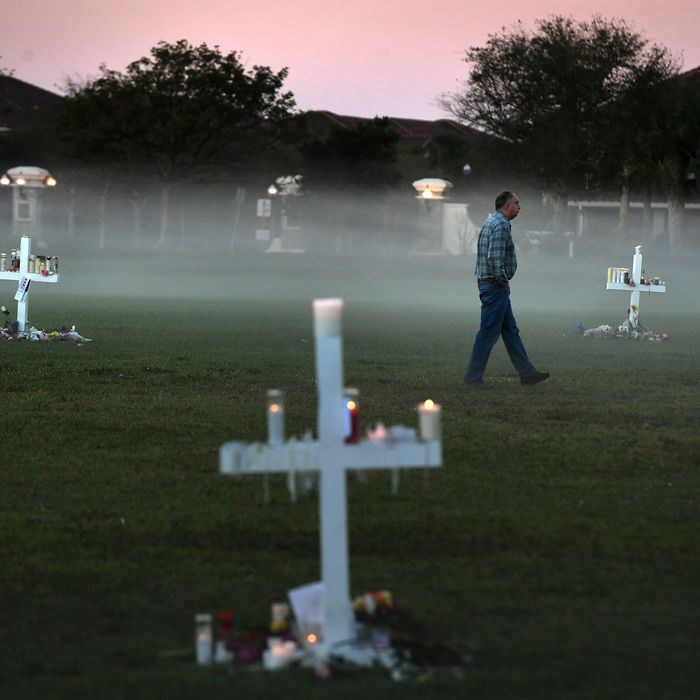 A makeshift memorial for the victims of the Marjory Stoneman Douglas High School shooting.
Photo: Matt McClain/The Washington Post/Getty Images
An armed police deputy who was on campus at Marjory Stoneman Douglas High School as Nikolas Cruz gunned down 17 people last week was suspended Thursday because he never went in the building to stop the shooting.
At a press conference Thursday, Sheriff Scott Israel said he suspended school resource officer Scot Peterson without pay after speaking to witnesses and watching surveillance footage from outside the school.
"What I saw was a deputy arrive at the west side of building 12, take up a position, and he never went in," Israel said. Peterson got on his radio at one point, Israel said, and remained outside the building for "upwards of four minutes." After he was suspended, Peterson resigned and retired.
Peterson should have "went in. Addressed the killer. Killed the killer," Israel said.
Asked how he felt knowing that a deputy remained outside the school while the massacre went on inside, Israel said, "Devastated, sick to my stomach, there are no words."
Two other Broward County deputies were placed on restricted duty, Israel said, as the department determines if they "could've done more or should've done more."