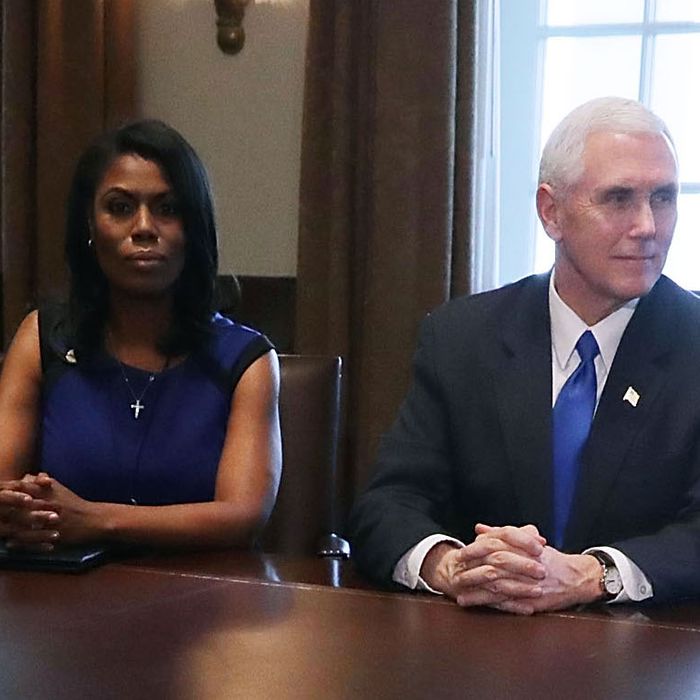 Just wait until Brandi Glanville hears about this!
Photo: Chip Somodevilla/Getty Images
If you get all of your news from reality-TV programming, this month has been absolutely brutal. Last week on Celebrity Big Brother, Apprentice villain turned White House staffer turned reality-game-show oracle Omarosa Manigault-Newman dropped some crushing information: the Donald J. Trump administration isn't going great. In fact, "like, it's bad," Omarosa whispered through tears. When fellow contestant Ross Mathews implored Omarosa to give him some reassurance, she could only answer, "No, it's gonna not be okay. It's not."
Yikes! But isn't there, like, a thing we can do to make Trump not president anymore? That thing Congress was going to do to Fitz when everybody found out about his affair with Olivia? Impeachment!
Unfortunately, as Omarosa explained to a panel of C-list celebrities on Monday night's episode, that could actually make things worse.
"Can I just say this? As bad as y'all think Trump is, you would be worried about Pence," she said. "So everybody that's wishing for impeachment might want to reconsider their lives."
Omarosa then threw some slightly more specific shade at Vice-President Mike Pence: "We would be begging for days of Trump back if Pence became president. He's extreme. I'm Christian, I love Jesus, but he thinks Jesus tells him to say things. I'm like, 'Jesus ain't saying that.' He's scary."
Omarosa avoided eviction on Monday night, so be sure to tune in next week, when she may or may not confirm that Jared and Ivanka take turns being president while 45 monitors the Fox News daytime lineup. Celebrity Big Brother: Come for the Oval Office gossip, stay to see the guy from Sugar Ray get a mostly accurate lesson on the current U.S. immigration debate.