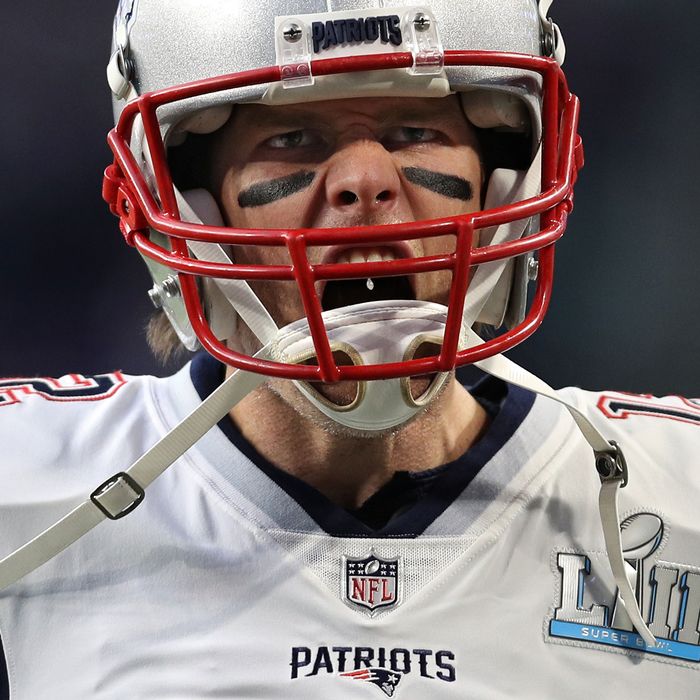 Not actually angry.
Photo: Patrick Smith/Getty Images
The Boston Herald suspended the column of writer Ron Borges after he wrote a story based on bogus intel from a prankster, who had said Tom Brady was planning to make trouble with the Patriots if he didn't get a raise this off-season.
Borges apparently thought his source for the story was Brady's agent Don Yee. Turns out, it was "Nick in Boston," a regular caller to a local sports talk radio show. Nick texted Borges saying he was Yee and then dropped the news: Brady wants to be paid like his former backup Jimmy Garoppolo, who was just made the highest-paid player in the NFL. If the Pats refused, Brady would refuse to attend off-season workouts, Nick wrote, still pretending to be Yee.
On Friday, Nick told WEEI that he even spoke to Borges on the phone, expecting the columnist to realize the ruse when he heard his voice. Instead, Borges ran with it and on Friday morning, the back page of the Herald looked like this:
The column was exposed as bogus by early Friday when other reporters started talking to their sources, who said things like: Borges is "off the reservation." By 7:30 a.m., the article was off the Herald's website and by early afternoon, Borges's column was suspended.
Borges has been accused of ethical lapses before. In 2007, he was suspended by the Boston Globe for plagiarizing his football column. A few years prior to that, he slapped a boxing writer in a neck brace at a press conference.