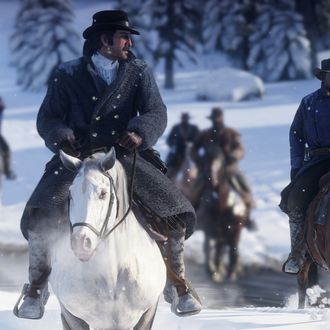 A screenshot from
Red Dead Redemption 2
.
Photo: Rockstar Games
Red Dead Redemption 2, a Western-themed open-world game from Grand Theft Auto developer Rockstar Games, has gotten its official release date: October 26, 2018. For those keeping track, this represents a full year delay from the initial release date announced in the first trailer of Fall 2017.
"We apologize to everyone disappointed by this delay," writes Rockstar. "While we had hoped to have the game out sooner, we require a little extra time for polish."
Delays are common for major video-game titles. That said, most fans were expecting a delay of, like, six months — about the same delay that Grand Theft Auto V experienced — rather than a full year. "Red Dead Rescheduled," quipped one fan in a subreddit dedicated to the game. "Fuck, I'm gonna be in college then," wrote another.
The original Red Dead Redemption, released in 2010, is a title many (including me) would point to as the high-water mark for open-world action games. It's a safe bet that Red Dead Redemption 2 will be the best-selling game of 2018, even coming toward the end of the year. Grand Theft Auto V, released in 2013, still remains on best-seller charts and has an active (and highly profitable) multiplayer scene.
It'll be interesting to see how this announcement affects the release date for other titles. October and November are traditionally the months when studios put out their flagship titles, but gamers may see that change slightly, as publishers potentially shift titles around to avoid competing directly with Red Dead Redemption 2.