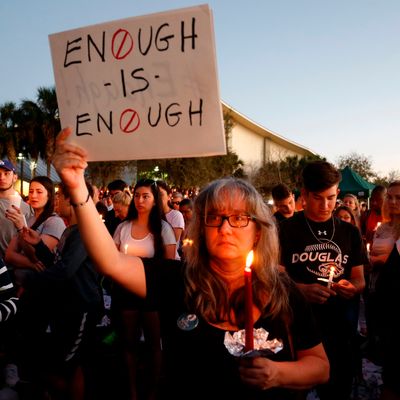 Mourners at a February 15 vigil for the victims of the Marjory Stoneman Douglas High School shooting.
Photo: RHONA WISE/AFP/Getty Images
By now we're all painfully familiar with the discussion that follows a mass shooting. The left calls for new gun-control measures. The right says the focus should be on mental illness, not new restrictions on gun owners. Usually no new gun laws are passed, and nothing is done to improve the mental health system.
As the survivors of last week's school shooting in Parkland, Florida, try to build a movement to end gun violence, there have been new calls for "red flag laws," which allow law enforcement to seize the firearms of people believed to be a danger to themselves or others. Gun control advocates have been pushing for these gun-violence restraining orders for several years, and in the last week a handful of conservatives have embraced them as well, saying they empower people to do something when they see someone at risk of committing gun violence, without infringing on the rights of other gun owners. Here's what you need to know about the legislation.
What do red flag laws do?
Current federal and state gun control laws are mainly focused on preventing dangerous people from purchasing firearms. Under federal law a person can be entered into the federal background check database if they're involuntarily committed to a mental hospital, or if a court or government declares them mentally incompetent. States are encouraged (but not required) to share these records with the the National Instant Criminal Background check system.
Theoretically, this should prevent people the state has deemed mentally ill from purchasing firearms at a licensed gun shop. But as we've seen with Nikolas Cruz, who's accused of killing 17 people at Marjory Stoneman Douglas High School, even if someone is displaying warning signs of violent behavior, they're free to purchase and possess firearms if they've yet to commit a crime and haven't come into contact with the state mental health system.
Red flag laws aim to fix this by giving family members and law enforcement officers the ability to petition the court to temporarily seize the firearms of someone believed to be at risk. If a judge is convinced that the person poses a danger, they can quickly order them to surrender their firearms. Within a few weeks, the court holds a full hearing on whether the restrictions should be dropped or extended for up a year. The gun owner has opportunities to petition to have their weapons returned.
Connecticut passed the first such law in 1999, allowing only law enforcement to request a "risk warrant." In 2014, California became the first state to allow family members, as well as law enforcement, to seek firearms restraining orders. That law was passed shortly after 22-year-old Elliot Rodger killed six people with a knife and a gun in Isla Vista, California, though his parents had contacted the police with concerns about his behavior. Similar laws have been passed in Washington, Oregon, and Indiana.
Have red flag laws been successful?
Most of the laws were implemented too recently to tell. However, a 2016 study by Jeffrey Swanson, a psychiatry professor at Duke University's School of Medicine, and nine other researchers, suggested that Connecticut's law may have reduced the number of suicides. While homicides draw more attention, about 60 percent of gun deaths in the U.S. are suicides.
From 1999 to 2013, 762 gun-violence prevention warrants were issued in the state. Researchers found that 21 of those people later committed suicide, and six used guns. As The Atlantic explains, they then tried to calculate how many suicides had been averted:
To estimate how likely subjects of the restraining orders would have been to use a gun on themselves, had they retained their firearms, Swanson and his team used national data on how likely male gun owners are to use a gun to attempt suicide. That comparison lead researchers to expect that, if the subjects of the restraining orders had remained armed, there would have been at least 71 additional suicides. That rough estimate equates to one averted suicide for every 10 to 11 guns seized in Connecticut.
The study also found that in in 44 percent of the cases, the request for a risk warrant led to the person receiving psychiatric treatment.
Why are red flag laws getting more attention after Parkland?
Red flag laws were already being considered in 18 states prior to the Parkland shooting, according to the nonprofit advocacy group Everytown for Gun Safety. Last May, Representative Salud Carbajal and Senator Dianne Feinstein introduced federal legislation that would have encouraged states to adopt those measures.
Trump may have inadvertently helped highlight the legislation when he posted a tweet on the morning after the Parkland shooting that appeared to cast blame on people surrounding Cruz for failing to report him to the authorities.
It later emerged that people had regularly brought Cruz's behavior to the attention of law enforcement. The FBI failed to properly investigate one of those tips, but nothing in Florida law would have allowed local law enforcement to seize Cruz's weapons.
"Based on the law, if someone [who has weapons] says I want to grow up and be a serial killer, there's nothing you can do about it," Broward County Sheriff Scott Israel told the Miami Herald. "We can't arrest for something a person is thinking about."
Who is calling for new red flag laws?
In response to the Parkland shooting, House Democrats renewed their efforts to pass legislation that would authorize a federal grant program for states that enact gun violence restraining order laws. There were also new calls from Democratic legislators in a number of states — including Michigan, Pennsylvania, and North Carolina — to enact red flag laws.
The most significant shift, however, is that now a handful of Republicans are pointing to red flag laws as the type of gun control they could support. It seems some were swayed by a piece David French wrote for the National Review that argues the laws strike the right balance between protecting public safety and respecting Second Amendment rights. Highlighting the FBI's failure to stop several mass shooters, he said citizens and local authorities should be given more power to combat gun violence:
In other words, proper application of existing policies and procedures could have saved lives, but the people in the federal government failed. And they keep failing. So let's empower different people. Let's empower the people who have the most to lose, and let's place accountability on the lowest possible level of government: the local judges who consistently and regularly adjudicate similar claims in the context of family and criminal law.

The GVRO is consistent with and recognizes both the inherent right of self-defense andthe inherent right of due process. It is not collective punishment. It is precisely targeted.

Advocates for GVROs have been mostly clustered on the left, but there is nothing inherently leftist about the concept. After all, the GVRO is consistent with and recognizes both the inherent right of self-defense and the inherent right of due process. It is not collective punishment. It is precisely targeted.
Both former Florida governor Jeb Bush and Senator Marco Rubio included French's article in tweets endorsing red flag laws.
Gun control advocates say the gun lobby has put up less of a fight over red flag laws than other gun restrictions, though it has spoken out against them.
While red flag laws would only be a small step toward curtailing gun violence in the U.S., advocates say they see signs that it's the type of "common-sense gun law" that could actually garner significant bipartisan support.
"There is a growing consensus that this is the first step we should be taking when we are talking about people who are at risk of hurting themselves or others," said Lauren Alfred of the gun violence prevention group Sandy Hook Promise.