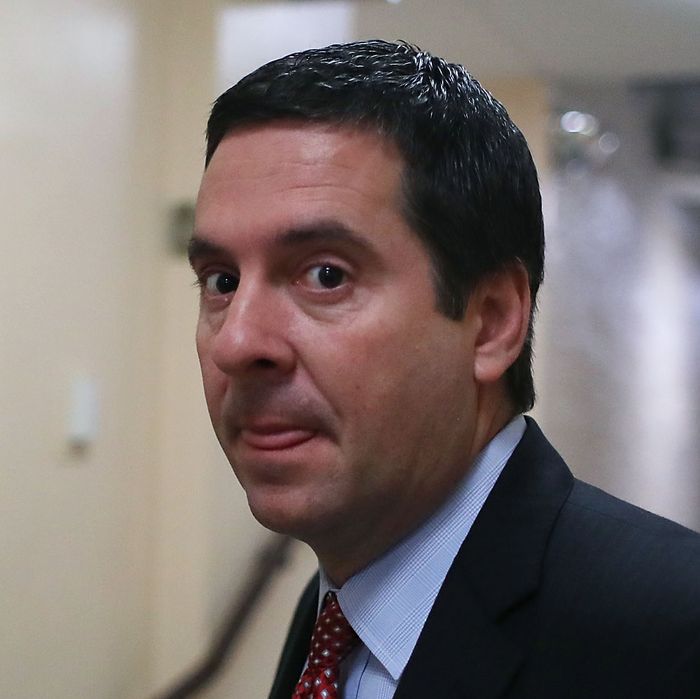 Nunes may be aiming for more time in the pro-Trump sun.
Photo: Mark Wilson/Getty Images
House Intelligence Committee chairman Devin Nunes is planning to release as many as five additional memos targeting politically motivated "wrongdoing" at federal agencies, according to a new Axios report. On Friday, the House Intelligence Committee released a declassified GOP-written memo which accused officials at the FBI and Justice Department of abusing their power for politically motivated purposes and using misleading information to obtain a FISA warrant to surveil a former Trump campaign adviser who was suspected of having ties to the Kremlin.
The overhyped memo got a lot of attention, but was far from the shocking conspiracy exposé that Nunes and many other Trump allies had promised, and it in fact largely reinforced the rationale of the Russia investigation. Either way, it's unlikely Nunes will be deterred by the criticism, so more memos are undoubtedly on the way. How credible they are, and how much damage they do to the federal institutions they target, remains to be seen.
"There are several areas of concern where federal agencies used government resources to try to create a narrative and influence the election," a Republican member of the House Intelligence Committee claimed to Axios, also teasing the possible appearance of Clinton operatives in the future memos. On Friday, Nunes said on Fox News that the "FISA abuse" memo was only the first phase of his efforts, and that phase two would go after agencies like the State Department. Nunes also told the Weekly Standard that additional memos won't go through the same process as the first one, which required a committee vote and President Trump's approval to get released to the public.
Representative Nunes isn't the only one working to publish another memo, however. Democrats on the House Intelligence Committee are trying to pressure Republicans and the White House to allow the release of a rebuttal to Nunes's memo, detailing its flaws. A debate on whether to release that memo or not will reportedly take place in the committee on Monday.
How much attention Nunes and other pro-Trump Republicans and media figures will be able to drum up for future memos isn't clear. Nunes has probably damaged his credibility outside pro-Trump circles as a result of this episode, and as BuzzFeed's Charlie Warzel pointed out on Friday, the congressman arguably screwed up his own scandalmongering too:
[T]he Nunes memo departed from the pro-Trump media playbook in an crucial way — the reveal. After weeks of coverage, protest, and hand wringing, the #ReleaseTheMemo campaign had accomplished what it set out to do: push forward a narrative of corruption and anti-Trump bias. Without divulging classified information, Trump loyalists portrayed themselves and the administration as victims: They easily muddied the waters between fact, fiction, and partially true (and partially not!).




Had the memo never been released, it may well have driven the news cycle for weeks more — hanging like a cloud over the Trump-Russia investigation — indisputable proof of something, just out of reach. Now that it's out, it's been defanged and its news value sapped. It will soon be subsumed by the next controversy.
Then again, Nunes could also be planning on creating that next controversy in the form of another new memo.
Looking ahead to the midterms, it doesn't look like Nunes's new notoriety will cost him electorally back home in Central California's heavily Republican 22nd district. Nunes's main challenger in this November's election, Democratic prosecutor Andrew Janz, reportedly raised more than $110,000 on Thursday and Friday thanks to the memo controversy. But Politico reported on Saturday that while Janz's campaign may be energized and trying to capitalize on Nunes's bad press, the candidate still faces long odds. Nunes already has a $3.8 million campaign war chest, and, unlike many other California Republicans, his seat is not being aggressively targeted by ambitious Democrats this fall.
The New York Times checked in with random voters in Nunes's district on Friday and found that people either weren't aware of the memo controversy or didn't much care about it. Then again, as Ed Kilgore argued on Thursday, an upset this fall isn't out of the question, and "no matter how this all turns out, Nunes is attracting an astonishing amount of attention to himself, and is out on a political limb that looks less stable every day."