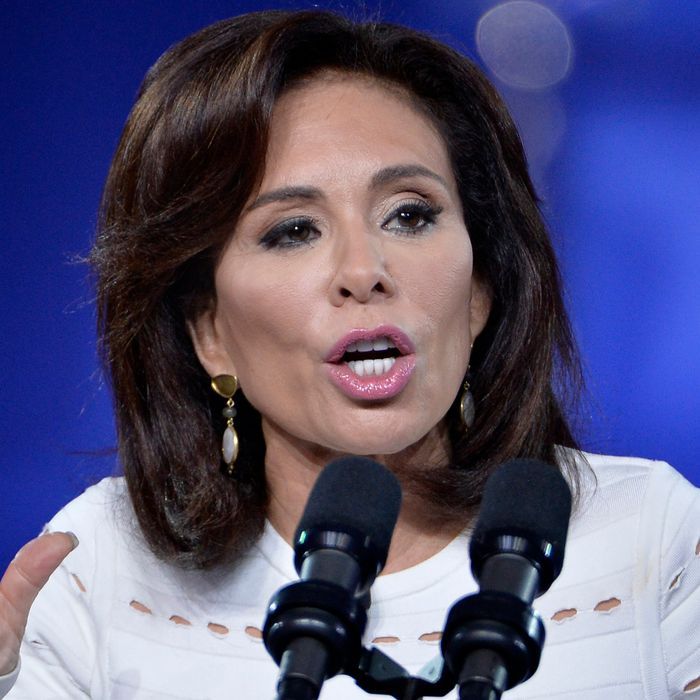 Finally, a truth-teller in the White House.
Photo: MIKE THEILER/AFP/Getty Images
The New York Times reported that Jeanine Pirro, the former judge and Fox News mainstay, has discussed with President Trump "the possibility of a book project to counter the damning portrayal of his presidency in Michael Wolff's book 'Fire and Fury,' according to three people with knowledge of their conversations."
What the Times didn't mention was that Pirro has already completed a draft of the book, the top half of the first page of which New York happened to find under a Domino's box in a trash can two blocks from the White House. As you can see below, Pirro has retained her distinctive voice in this sure-to-be-controversial account.
CHAPTER 1: THE GREATEST PRESIDENT




PRESIDENT TRUMP, who definitely did want to win the presidency despite what you may have read in other PROPAGANDA HIT JOBS, strode into the Oval Office on January 20th after being celebrated by the BIGGEST CROWD in inaugural history.




There was a lot on the president's plate, from the economy to Obamacare repeal to the CHINA MENACE. But first, he had to clean up the MESS made by the last administration and CROOKED HILLARY Clinton. Having watched as she got away with murder, there was only one REASONABLE THING TO DO. And that was to LOCK. HER. UP!!




"For the good of America, we need to get to the bottom of Hillary's email server," Trump said, soberly. Everyone in the room nodded. Everyone KNEW this was the most pressing issue facing our great country.




But little did Trump realize in that moment that members of his OWN CABINET, together with the TREASONOUS FBI, would conspire against him to protect the OBAMA DEEP STATE.




The HIGHLY LITERATE, 6'3" leader was in for the fight of his life.
Wow! We can't wait to read the bottom half of page one and beyond. This has the ring of a best seller!