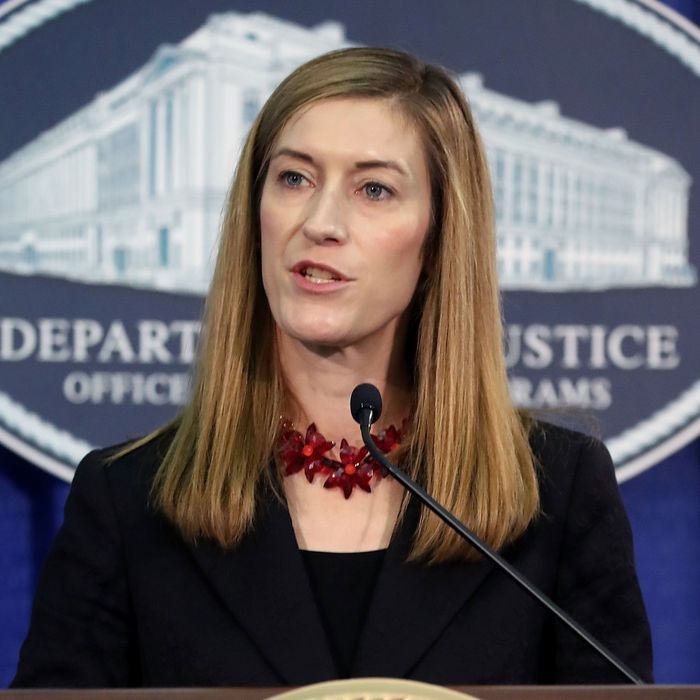 Rachel Brand.
Photo: Mark Wilson/Getty Images
NBC News reported on Monday that Rachel Brand, the third-ranking official at the Department of Justice, decided to resign in part because she "feared she would be asked to oversee the Russia investigation."
The report does not elaborate on which aspects of the probe Brand dreaded taking on, or whether it was merely the prospect of being thrust into one of the highest-pressure jobs in politics that gave her pause. But it suggests that Brand thinks there's a decent chance that Deputy Attorney General Rod Rosenstein, who currently supervises the investigation, might be fired by President Trump, a move that would leave her in charge.
On Friday, Brand said that she would step down to take a job as the executive vice-president of global governance at Walmart after only nine months at the DOJ. Her friends told reporters that Brand simply received an unbeatable offer from the company, but Brand's decision led many to speculate that President Trump's relentless assault on the agency, which he has accused of trying to undermine him, was driving out respected, established lawyers.
Brand, a longtime presence in Washington, has served in the last three administrations as a political appointee. Before that, she was a clerk for Supreme Court justice Anthony Kennedy.
Beyond Russia, there was another reason for Brand's departure that struck a more familiar note among 2018-era bureaucrats in Washington: the Trump administration has neglected her office.
NBC reports that "as far back as last fall, Brand had expressed to friends that she felt overwhelmed and unsupported in her job, especially as many key positions under her jurisdiction had still not been filled with permanent, Senate-confirmed officials."
In this case, then, the administration's "deconstruction of the administrative state," in Steve Bannon's famous words, may have carried an unexpected personal benefit to Trump.
The president has mused repeatedly about firing Rosenstein, who appointed Special Counsel Robert Mueller last year after Attorney General Jeff Sessions recused himself. The incendiary Devin Nunes memo put out by House Republicans recently was seen as a possible pretext to do so.
But thus far, Trump has not made any bold, Saturday Night Massacre–type move. And it won't necessarily be a cinch to substitute Brand with any old partisan crony; her replacement will require Senate confirmation. Those hearings may serve as a test of whether Republicans like Lindsey Graham, who have expressed deep concern at the prospect of Trump dispatching Rosenstein or Mueller, are truly committed to an independent judiciary.