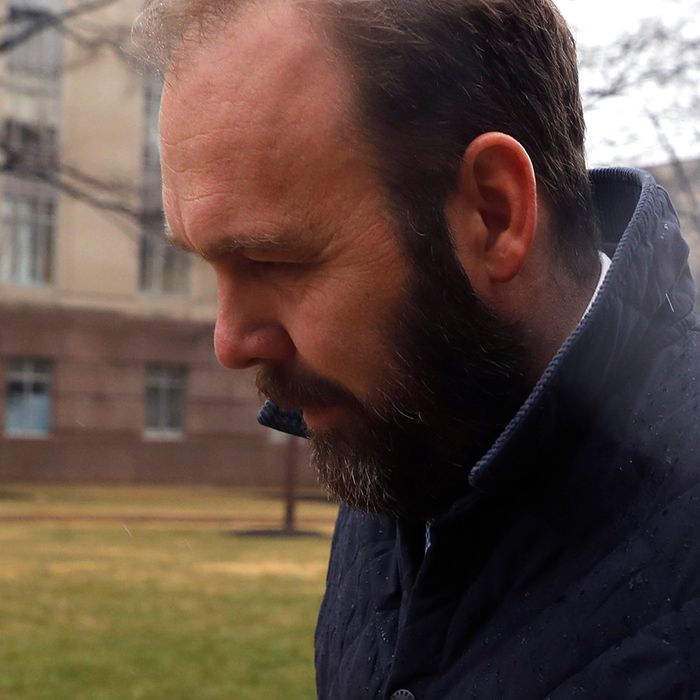 Former Trump aide Rick Gates attends a hearing on fraud, conspiracy, and money-laundering charges two weeks ago in Washington, D.C.
Photo: Aaron P. Bernstein/Getty Images
Former Trump campaign aide and Mueller investigation target Rick Gates will plead guilty to fraud-related charges in the next few days and testify against his former business partner and former Trump campaign chairman, Paul Manafort, the Los Angeles Times reported on Sunday. Last week, CNN said that a plea deal was being finalized between Mueller's prosecutors and Gates, and that deal is apparently now set, according to the Times' sources.
Gates's revised plea will be submitted in federal court sometime this week, and he will receive "a substantial reduction" in his sentence in exchange for his cooperation with the investigation.
Gates and Manafort, who ran a political consulting business together, were indicted in October by Mueller on charges that they fraudulently hid and laundered millions of dollars in Ukraine-originating payments from federal authorities. In addition to their business relationship, Gates served as Manafort's top aide on the Trump campaign, even running the campaign's operations for a time. Manafort was ultimately fired after it came to light that he may have accepted improper payments from a pro-Russia party in Ukraine. Gates stuck around and served as a liaison between the campaign and the RNC through Election Day, later serving on the Trump inaugural committee.
Despite Gates's extended tour in Trumpworld, a source tells the Times that it's unlikely he has information that would "turn the screws on Trump," but should Manafort maintain his not-guilty plea, Gates's testimony could prove crucial to either pressuring Manafort to cooperate, or convicting him. In other words, Manafort is probably the one who is now screwed, and if he flips, it will be interesting to see whom he flips on.