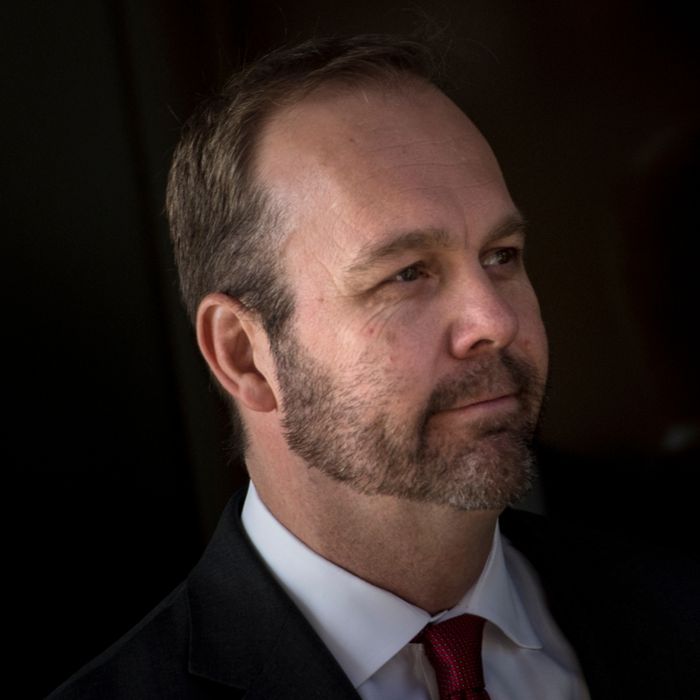 Rick Gates, former business partner of Paul Manafort.
Photo: BRENDAN SMIALOWSKI/AFP/Getty Images
Rick Gates, the longtime business partner to Paul Manafort, is finalizing a plea deal with Robert Mueller's office, reports CNN. That makes Gates the third major figure to be cooperating with Mueller, along with George Papadopoulos and Michael Flynn.
Gates's testimony will almost certainly put a lot of pressure on Manafort. There's no other imaginable reason why Mueller would care about Gates other than gaining leverage over Manafort. And Manafort is a key figure with deep, murky ties to the Kremlin. He ran a foreign campaign-influence operation in the Ukraine on Russia's behalf, and when he took a job as Trump's campaign manager in 2016, it looked a lot like he was doing the same thing in the United States. One intercepted message found Manafort asking if he could use his role with Trump to "get whole" with the Kremlin-linked oligarch to whom he owed millions of dollars. Manafort also attended the infamous June 6, 2016, Trump Tower meeting — his experience would have left him with no illusions as to the meeting's real purpose — and continued to speak with Trump officials after the election.