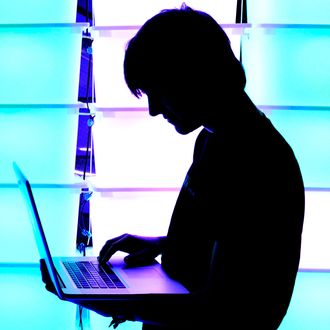 Photo: Patrick Lux/Getty Images
Agata Burdonova has been living in the United States for two months in Bellevue, Washington. Great, you might be thinking. Good for Agata; the Pacific Northwest seems like a nice place to live. Hope she likes the rain. Except, before moving to the United States, Burdonova lived in Russia, where she was reportedly a manager at the Internet Research Agency, the Kremlin-linked troll farm responsible for mucking with the 2016 election, according to Russia's TV Rain. (Several IRA employees were named in an indictment from U.S. Special Counsel Robert Mueller earlier this month. Burdonova's name was not among them.) TV Rain also reports that Burdonova denied ever working for the IRA.
In case this story wasn't twisted enough to be Jennifer Lawrence's next Russia-centric film, here's another fun nugget. In June, Burdonova's husband, Dmitry Fyodorov, posted on Vkontakte — Russia's Facebook clone — that he had been offered a position at Facebook. It's unclear if this is the job that brought the couple to the United States, if he wound up taking the position, or if he currently works at the company.
Prior to TV Rain blowing up her spot, Burdonova openly chronicled her move to, and life in, the United States on Facebook. Her account has since been locked down, likely because of recent press. "She has posted pictures of her boarding pass and Russian passport, a selfie with her husband at Seattle-Tacoma International Airport, and photos of Seattle's Space Needle, a suburban American neighborhood, and several Washington parks," BuzzFeed News reported, prior to the lockdown. There was also a photo with Katarina Aistova, a known IRA employee. TV Rain reports that Aistova was Burdonova's boss. All that is visible on her account now is a few profile pictures and a cover photo reading, "I can't keep calm I'm salsa dancing." (She also has a blog, though you'll need to speak Russian to read it.)