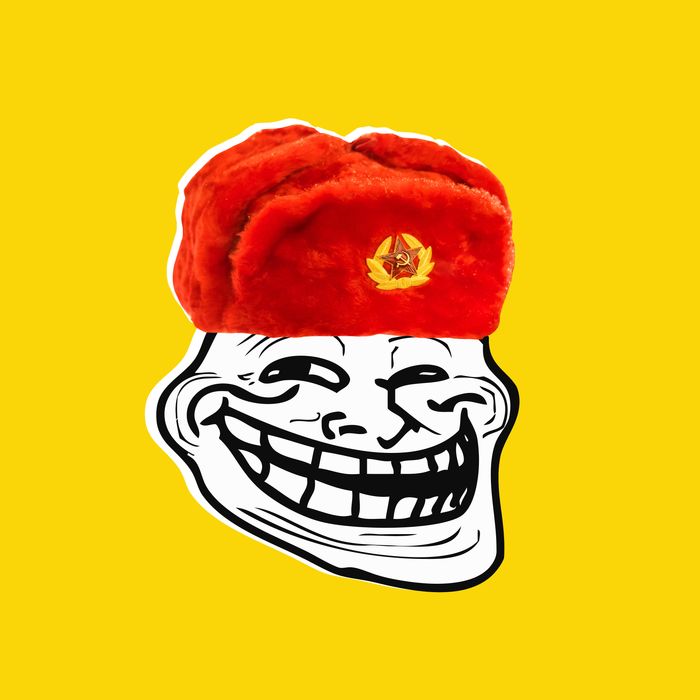 Russian Twitter trolls are co-opting hashtags from the Stoneman shooting to create unrest online.
Photo-Illustration: Select All; Photo: Stanislav Ostranitsa (hat)
In the wake of the Valentine's Day shooting at Marjory Stoneman Douglas High School in Parkland, Florida, which killed 17, there has, unsurprisingly, been an influx in gun-control dialogue on Twitter. What is surprising — but perhaps shouldn't be, given the events surrounding the 2016 election — is that some of the voices in that dialogue are actually Kremlin-linked Twitter accounts. The trolls co-opted popular hashtags, like #Parkland and #GunControlNow, to help spread their content.
Hamilton 68, a nonpartisan site that tracks and analyzes Russian Twitter propaganda, noted a marked shift in what some of these accounts were tweeting following the shooting. Before the shooting, Ukraine and Syria were popular topics, whereas after, Nikolas Cruz — the suspected shooter — was a top subject. "The Kremlin doesn't care about gun control in America, they have no skin in this game," Hamilton 68 analyst Brett Schafer told NPR. "By taking an extreme hyper-partisan position, it just serves to further rip us apart." The tweets, NBC News notes, lean both left and right. While one Kremlin-linked account might be spouting anti-gun rhetoric at the NRA on Twitter about "blood money," a different account might opt to go in on the mainstream media. The point here isn't to convince people on Twitter of a certain viewpoint, but rather to create chaos.
"The accounts seek to exploit divisions in order to break down society into smaller, warring groups," according to NBC News. "Trolls drum up persona accounts on every side of the ideological spectrum and take advantage of high-impact events to spread confusion and disarray." Nowhere was this more clear than during the 2016 election where, as we now know, Russian-sponsored tweets were hiding in plain sight. At the beginning of 2018, Twitter emailed 677,775 Americans to let them know that they had retweeted content from a Kremlin-linked account in the months leading up to the election.