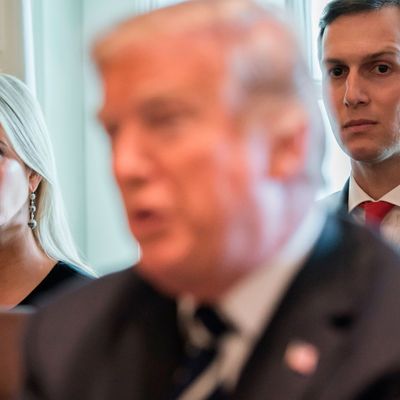 Insecure.
Photo: Saul Loeb/AFP/Getty Images
Throughout his general election campaign, Donald Trump argued that mishandling classified information was such a betrayal of the public's trust and security, any official who did so was unqualified for the presidency — and fit for a prison sentence.
If Trump still holds that view today, he might need to "lock up" most of his own White House. As of last November, more than 130 administration appointees lacked permanent security clearances, according to documents obtained by CNN and NBC News. Among them were several top-ranking White House officials who had been on staff since the presidency's earliest days, including Jared Kushner, Ivanka Trump, and White House counsel Don McGahn. Meanwhile, ten members of the president's National Security Council had not been approved for permanent access to top secret information.
It is not clear how many of those appointees secured such access between November and today. And it's also unclear how many of them lack a permanent security clearance for wholly innocent, bureaucratic reasons.
But all signs suggest that some administration officials simply have things in their backgrounds that render them ineligible for permanent security clearances — and that the president is allowing them to use interim security clearances indefinitely instead.
This was apparently the case with Rob Porter. This week, we learned that the FBI completed a background check on the former White House staff secretary last summer. That file would have included information about Porter's history of domestic abuse, including the restraining order that one of his ex-wives secured against him. This appears to have prevented Porter from receiving a permanent security clearance. But the secretary was still able to access "top secret" information with an interim clearance until he resigned earlier this month.
It is true that Trump's taste in staff may be especially taxing on the security clearance bureaucracy. A significant number of his appointees have never served in government before, and have vast and complicated financial holdings. Nonetheless, Trump's chief economic adviser Gary Cohn — former president and chief operating officer of Goldman Sachs — obtained a full security clearance by last November. Jared Kushner, meanwhile, had not.
Given Kushner's prominent role in shaping the administration's foreign policy, the notion that his background might disqualify him from holding a permanent security clearance would seem concerning — especially to anyone who believes that the mere use of a private email server by a government official is a crime tantamount to treason.