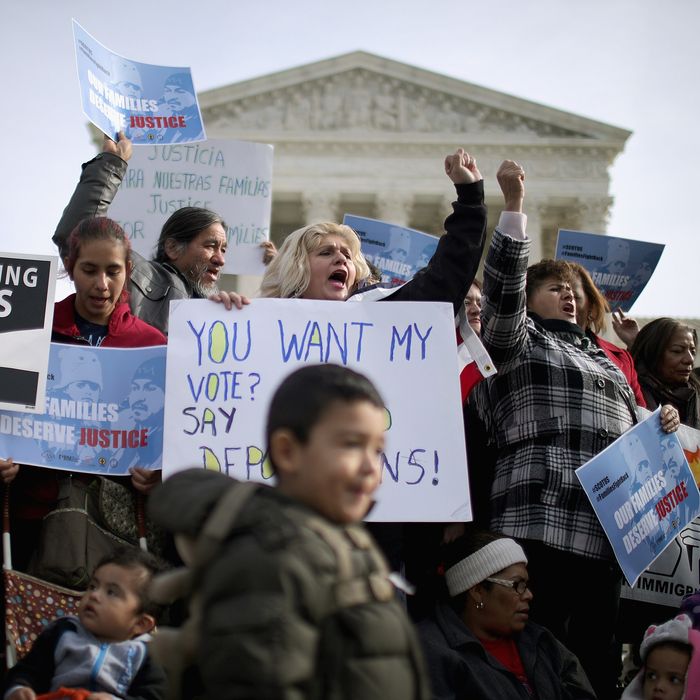 The Supreme Court is going to wait on the Ninth Circuit Court of Appeals before addressing the legality of Trump's efforts to kill DACA.
Photo: Chip Somodevilla/Getty Images
On January 9, William Alsup, a federal district court judge in California struck down the Trump administration's pending cancellation — scheduled for March 5 — of the DACA program for Dreamers. (A second federal judge in New York subsequently did the same.) Normally one would expect the California judge's order (based on his disagreement with the "false premise" that Barack Obama didn't have the authority to institute DACA by executive order in the first place) to be reviewed by the Ninth Circuit Court of Appeals. But the administration made an unusual appeal directly to the Supreme Court to step in and overrule Alsup in order to protect its March 5 deadline.
As Cristian Faras predicted, SCOTUS gave the case a wide berth at this point, with a two-sentence order refusing the request for immediate review and placidly stating: "It is assumed that the Court of Appeals will proceed expeditiously to decide this case." So the Ninth Circuit will indeed get first crack at the case, and if SCOTUS deals with it at all, it will likely be well after March 5.
There is actually no particular reason to assume SCOTUS will side with Trump on DACA if and when it addresses its constitutionality. As Farias pointed out, there is a reason DACA has "remained alive and well for more than five years." It reflects principles of prosecutorial discretion that the courts have long respected.
But in any event, the practical effect of the Court's decision to wait on the Ninth Circuit is to remove the pressure on Congress created by Trump's artificial March 5 deadline for DACA. For Dreamers, that's an equivocal development, removing any immediate threat of deportation but also making an already difficult immigration "deal" in Congress less urgent. It remains to be seen how the president's Twitter account reacts to this unsurprising, and perhaps temporary, setback in the courts. He's never going to be happy with a course of action that leads through the Ninth Circuit Court of Appeals.