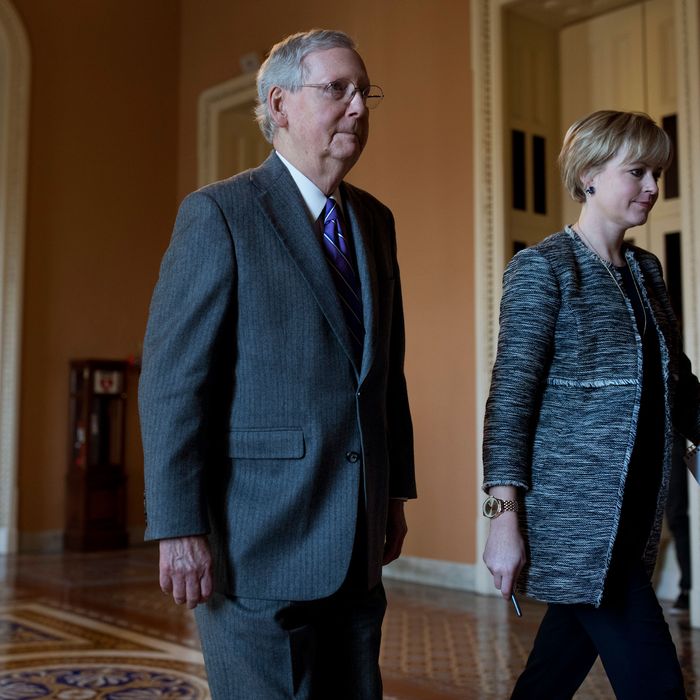 If Mitch McConnell set up an immigration debate hoping nothing would happen, he's getting his wish.
Photo: Aaron P. Bernstein/Getty Images
The Great Senate Immigration Debate of 2018 came a cropper today as the Senate failed to give any of an assortment of immigration proposals the 60 votes needed to overcome a filibuster.
The most promising proposal — a bipartisan bill (it had eight GOP and eight Democratic co-sponsors) that provided what the president had asked for in border-control funding and what the president had proposed in a path to citizenship for Dreamers — got only 54 votes (though three liberal Democrats appeared to vote against it only when it was obvious that it was going to fail). Its failure was largely attributable to a frantic lobbying effort from the administration culminating in a Trump veto threat.
This negative win for the administration didn't translate into any positive accomplishment because the Senate also decisively (by a 60/39 margin) rejected the Grassley bill closely modeled on Trump's own proposal. It did attract one Democrat, Joe Manchin, but lost a lot of Republicans.
The Senate also gave only 52 votes to a "skinny" bill from John McCain and Chris Coons that would have matched less extensive border-security funding commitments with less sweeping Dreamer protections. And in a vote that was designed mainly to set up attack ads on Senate Democrats, Pat Toomey's proposal to deny certain grants to "sanctuary cities" (a legislative version of an administration proposal struck down in the courts) got only 54 votes.
There's theoretically another day left before Congress books for its Presidents' Day recess. But the Senate votes eliminated every lively option on the table, and that's without even considering the high odds against House consideration of any bill that could get 60 votes in the Senate.
The administration apparently thinks the rejection of bipartisan proposals will eventually force Democrats to bend to Trump's will, according to Politico:
The White House has been telling Republican senators that it expects the Supreme Court to overturn the 9th U.S. Circuit Court of Appeals' ruling extending protections for undocumented immigrants under the Obama-era Deferred Action for Childhood Arrivals program. The implication is that what is now an indefinite grace period would quickly disappear — and that Democrats would be without leverage and forced to accept more Republican demands in order to codify DACA.
We'll see about that. But for the moment, nothing's about to happen on the immigration front, and that's apparently fine with Donald J. Trump.