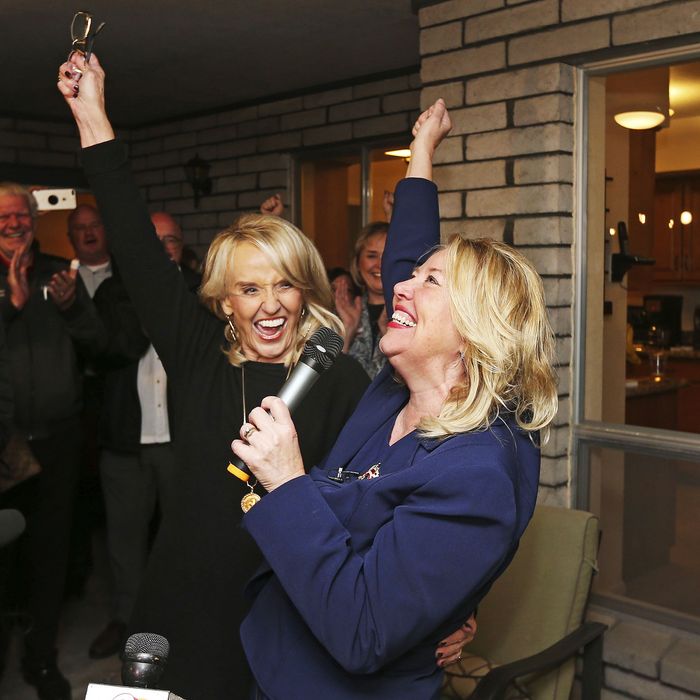 Debbie Lesko celebrates with former Arizona governor Jan Brewer after an unlikely chain of sex scandals won her a GOP congressional nomination.
Photo: Ralph Freso/AP/REX/Shutterstock
The reckoning over sexual misconduct by powerful men took down another politician yesterday, as the front-runner for the GOP nomination in a special congressional district in Arizona, Steve Montenegro, lost to a former State Senate colleague, Debbie Lesko, in a contest dominated in the late going by a sexting scandal. Local media got ahold of a text-message exchange between Montenegro and a legislative staffer that included a topless image of the latter:
A series of text messages between Montenegro and a female staff member at the Arizona Legislature may raise questions about that claim.




The staffer sent Montenegro a topless photo via text message, according to a series of messages between Montenegro and the staffer that were reviewed by 12 News
The image itself was reportedly sent by Snapchat, and has disappeared. Montenegro angrily denounced the allegations as "tabloid trash." But the text messages themselves were bad enough considering the context of a married legislator (and a youth minister at his father's Pentecostal church!) and a legislative staffer. In an interview with the Washington Examiner Montenegro allowed as to how he may have let himself get "too comfy or familiar" with the woman in question, but suggested the entire episode represented politically motivated "revenge porn."
What made Montenegro's saga particularly damaging politically was its juxtaposition with the reason Arizona's Eighth District was having a special election in the first place: the resignation in December of Representative Trent Franks for asking two of his staffers to bear children for him in light of his inability to do so with his wife. This lurid disclosure, which seemed to come straight out of The Handmaid's Tale, made relationships between pols and staffers a sensitive subject in the district, to Montenegro's great peril.
At first it looked like he might survive the scandal and win anyway thanks to heavy early voting, which meant many Republicans casting ballots might have done so before hearing about Montenegro's problem. But Montenegro ended up losing by 12 points to another former state senator, Debbie Lesko. The GOP thus lost a potential congressman who was something of a unicorn: a Salvadorean immigrant who was the only Latino legislator to vote for Arizona's notorious SB 1070 "show your papers" law, crafted by Kris Kobach. Montenegro was also a Trump delegate to the 2016 Republican National Convention. His candidacy in the special election was supported by Sheriff Joe Arpaio and Senator Ted Cruz.
Lesko will be a heavy favorite to hold the district for the GOP in the April 24 special general election against Democratic nominee Hiral Tipirneni, a physician who handily defeated transgender candidate and progressive activist Brianna Westbrook in the primary. The Eighth, which includes a big chunk of the Phoenix suburbs, has a Cook Political Report PVI rating of R+13, which means it has been on average 13 points more Republican than the country as a whole in recent presidential elections. Trump carried the district by a 58/37 margin in 2016, and Franks didn't even have a Democratic opponent in 2014 or 2016.
The Republican nominee will have to deal with charges of campaign finance irregularities that Montenegro and another GOP rival hurled at her during the primary. And in a special election cycle like this one, when Democrats have been routinely outstripping past performances by large margins, any GOP candidate would be foolish to take anything for granted. Given the Franks and Montenegro scandals, though, Republicans are probably lucky to have a woman as their nominee in this particular district. There's only so much piggish behavior a party can sustain without real damage.