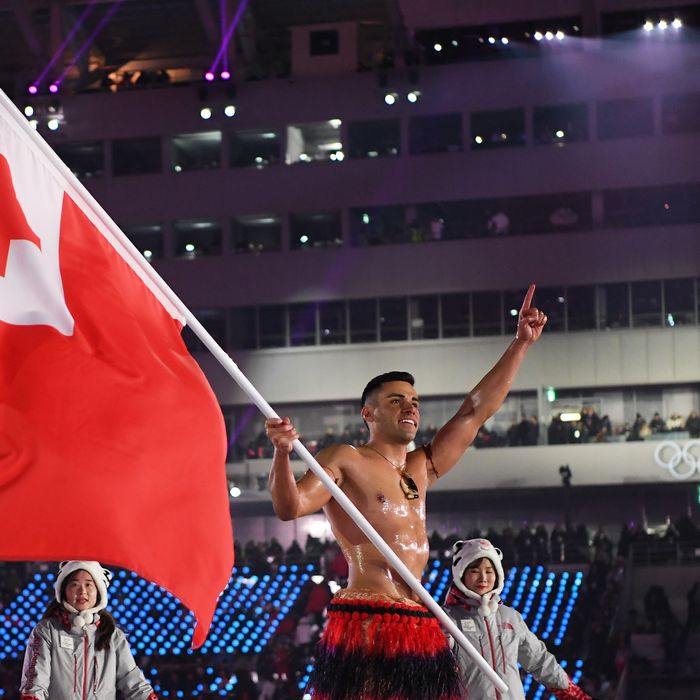 Tonga's shirtless flag bearer returns for the Winter Olympics in Pyeongchang.
Photo: Quinn Rooney/Getty Images
He's back. Pita Taufatofua, oft-ogled meme hero of the Rio Olympics, made his triumphant return this week at the Opening Ceremonies in Pyeongchang. (These won't air in the United States until Friday evening because of time differences and also NBC actually wanting people to be able to watch them.) Taufatofua competed in Tae Kwon Do in Rio — he was knocked out after a single fight — but is best remembered for his performance at the Opening Ceremonies, where he strutted around sans shirt and greased with coconut oil while carrying the Tongan flag. On Friday, Taufatofua repeated the stunt.
You can either admire this as commitment to a bit or as stupidity, since it was about 28 degrees during the ceremonies, and also the whole point of the Winter Olympics is to be able to wear some good knitwear. Taufatofua is competing as a cross-country skier for Tonga in Pyeongchang and told The Wall Street Journal that his only hope is to not finish dead last. It's unclear if he will be shirted during his races.