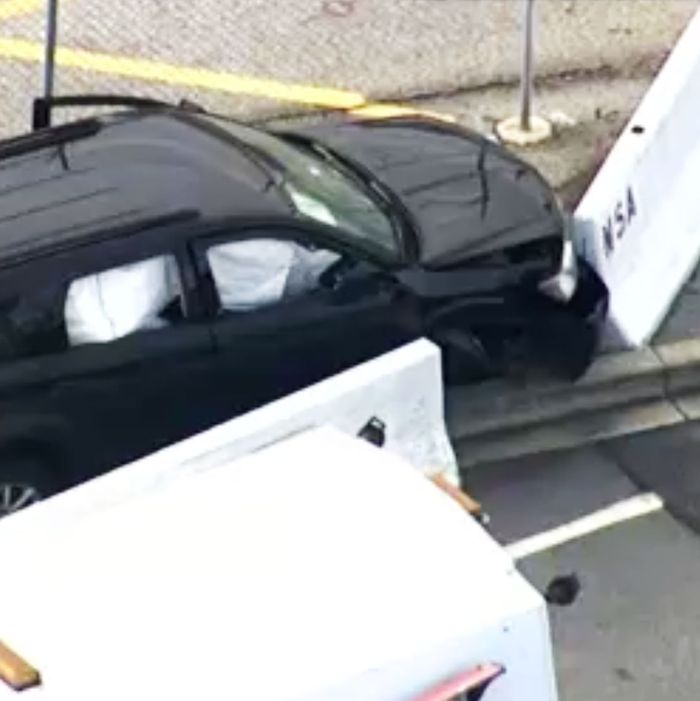 The SUV at the scene of the shooting.
Photo: WUSA TV-9
A shooting at one of the entrances to the National Security Agency complex in Fort Meade, Maryland, has left at least one person injured, according to the Associated Press. CBS News says three people are hurt and NBC Washington adds that one person is in custody.
It's unclear what led to the shooting, but photos of the scene show a black SUV with bullet holes in its windshield. The SUV appears to have crashed into a white concrete barrier near one of the NSA gates.
The White House released a statement Wednesday morning. It said: "The President has been briefed on the shooting at Ft. Meade. Our thoughts and prayers are with everyone that has been affected. We will continue to provide updates as they become available."
USA Today notes that drivers occasionally take the wrong exit and end up at the tightly guarded NSA gates. "Most motorists then carefully follow the orders of heavily armed federal officers and turn around without getting into more trouble," the paper reports.
In March of 2015, one person was killed and another was wounded when they drove a stolen SUV up to the NSA gates and refused orders to turn around. Despite initial fears of terrorism, prosecutors later determined that the pair ended up at the gates by mistake.