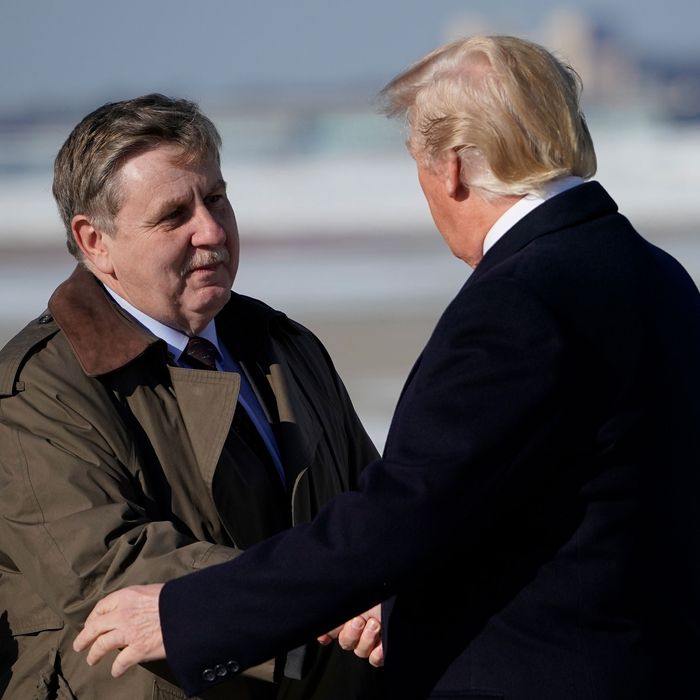 Trump will again campaign next week with GOP special congressional election candidate Rick Saccone, offering him support and maybe some steel tariffs.
Photo: Mandel Ngan/AFP/Getty Images
Trade policy is one of those subjects on which Candidate Trump broke sharply with conservative orthodoxy. President Trump the president hasn't done anything to implement his preferred protectionist policies, other than making periodic noises about shrewd trading partners cheating Uncle Sam, most recently at a White House meeting yesterday:
"We have countries that are taking advantage of us. They're charging us massive tariffs for us to sell our product into those countries. And when they sell to us, zero," Trump said during the meeting in the Cabinet room. "We're like the stupid people, and I don't like to have that anymore."
What makes this particular statement significant is that it was linked to a specific proposed executive action: retaliation against countries selling steel and aluminum to the U.S.
Trump is weighing whether to use one of his strongest trade tools — Section 232 of the Trade Expansion Act of 1962 — to restrict imports of strategic materials he deems vital to U.S. national security. He ordered investigations into the steel and aluminum markets last April.
The president has until mid-April to decide whether to hit selected countries — most likely China —with tariffs or other trade restrictions. A cavalcade of Republican and business leaders has made its way to the White House to lobby against the proposed action, partly on grounds that it will raise prices on a variety of products that utilize imported steel and aluminum (from cars to Coca-Cola), and partly because it could trigger a trade war with unforeseeable consequences. With global markets already jittery over inflation and interest rate concerns, a cycle of punitive actions restricting trade could be the last thing the world economy needs.
So far, resistance from his congressional and private-sector allies (with some help no doubt from within the administration) has restrained Trump's itchy trigger finger on trade. But there is a new wild card that could make a big difference: a key special congressional election in southwest Pennsylvania on March 13. This happens to be a historic steel-producing region where protectionist sentiments run very deep, and where Trump himself may have helped nailed down his upset win in the state in 2016 by attacking other countries' predatory trade practices. So nothing would be more natural for him than to announce tough actions on steel and aluminum next week when he's scheduled to be in Pittsburgh campaigning with Republican special election candidate Rick Saccone.
Saccone ought to be able to win the special election in a heavily Republican district without direct intervention by Trump, much less a presidential action with ramifications that reach far beyond Pennsylvania. But sooner or later, Trump is going to bust loose with his ill-suppressed desire for a big dustup over trade, and in his ever-churning mind there may be no time like the present.