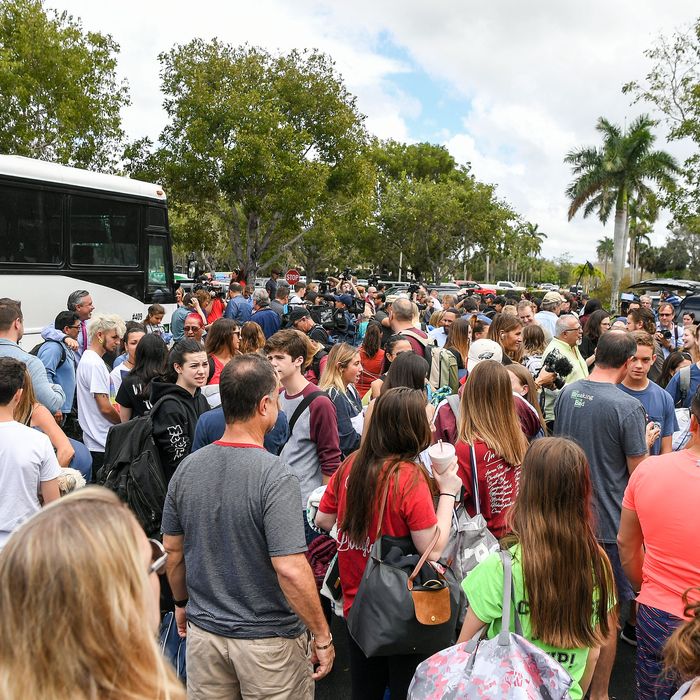 Students board buses en route to Tallahassee.
Photo: Jonathan Newton/The Washington Post/Getty Images
Around 100 students from Marjory Stoneman Douglas High School were joined Wednesday by thousands of their peers at a rally for gun control outside the capitol building in Tallahassee, Florida.
Dubbed the "Never Again" rally, the event was led by students from Stoneman Douglas, who took a 400-mile bus ride to lobby lawmakers just a week after 17 people were murdered at their school. The rally comes just one day after the state House voted down a motion to debate a bill that would ban assault rifles in the state.
"It's so important that our voices are heard," Sarah Leitch, a Jacksonville high-school student who was among the protesters, told the Tallahassee Democrat. "And we need to show lawmakers that if they keep being complacent about gun violence, they're not going to be reelected."
Students from Stoneman Douglas have a busy schedule of meetings Wednesday, including audiences with Governor Rick Scott, state attorney general Pam Bondi, and leaders of both the state House and Senate.
"We are, honestly at this point, begging them to do something, to save our lives, to save teachers' lives," Olivia Feller, a Stoneman Douglas junior, told Politico. Despite the refusal to take up the assault weapons ban, lawmakers are considering minor moves to restrict access to powerful weapons like the AR-15. Politico reports that "behind the scenes," leaders in the GOP-controlled House are "discussing backing legislation calling for age restrictions and waiting periods for the purchase of guns typically characterized as assault rifles."
As their peers took their pleas to the state capitol, thousands of students in Miami-Dade and Broward counties staged walkouts in solidarity. At one point, they stood silent for 17 minutes to honor the victims in last week's attack.
Meanwhile, students gathered outside the U.S. Capitol in Washington, D.C. Many of them came from Maryland, where walkouts organized on social media called for students to march to the Capitol and call for gun control.
Students also staged a sit-in outside of the White House, where President Trump will later meet with students and teachers from Stoneman Douglas, along with survivors of the mass shootings at Columbine High School and Sandy Hook Elementary.
But don't expect much to come of the meeting, Ed Rollins, a GOP consultant and the head of the Great America super-PAC, told Politico. "I think any time you listen, it's important. The critical thing is you have to be very sensitive and be just that — a listener, not a debater," he said. "But nothing is going to come out of there that we haven't heard before or that's going to turn the president around."