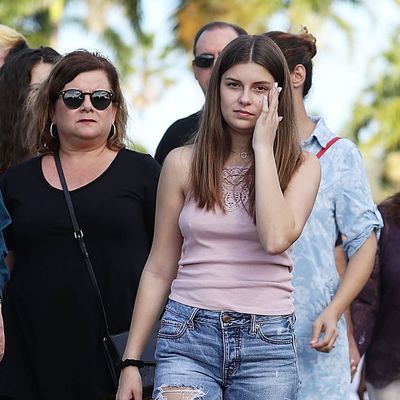 Students at Marjory Stoneman Douglas High School return to classes this week after a shooting killed 17 of their peers and teachers on Valentine's Day.
Photo: Joe Raedle/Getty Images
This week, classes will resume at Marjory Stoneman Douglas High School in Parkland, Florida. It has been two weeks since 19-year-old Nikolas Cruz — a former student — entered the school with a gun and killed 17 students and teachers. Over the weekend, Stoneman Douglas students and families entered the building for the first time to collect their belongings from the campus. Student Rain Valladares tweeted that she had left her camera — she's co–photo editor of the school yearbook — in school that day and shared several photos taken on Valentine's Day prior to the shooting. Among them is a photo of Emma Gonzalez, a Stoneman Douglas student who is part of a core group of survivors who have become vocal gun-reform activists in the wake of the shooting.
The photos are, as you would expect, heartbreaking. There are cookies, and flowers, and heart-shaped balloons, and students wearing red — visual reminders that this was supposed to be a happy, even celebratory, day at school; a day devoted to both learning and letting friends know that you care with construction paper and markers. Still, there's something that seems calmingly consistent about a teen, even one coping with an unthinkable trauma, sharing photos of her friends online. Only this time, instead of your run-of-the-mill sharing in the pursuit of social-media likes, there's a deeper sense of purpose. That these kids, and their regular kid behavior — see here: Stoneman Douglas students dragging Marco Rubio, Donald Trump, and Tomi Lahren on Twitter — could actually be the impetus for policy change.
On Monday, teachers returned to the school to prepare for Wednesday when the students will officially come back to their classrooms. A rainbow was spotted over the campus as they arrived.