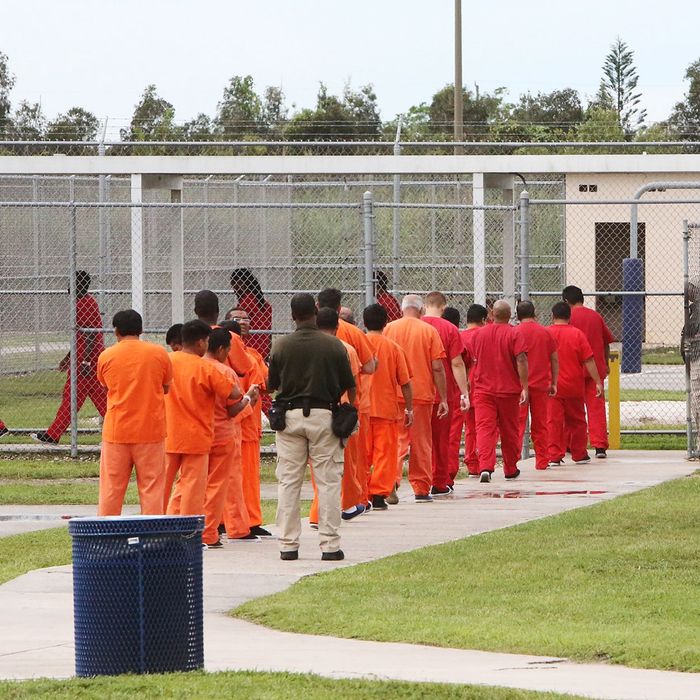 Foreign nationals at the Krome juvenile detention center, in Miami, Florida, where people with criminal records and deportation orders are often held.
Photo: Jose A. Iglesias/Miami Herald via Getty Images
For much of his presidency, Donald Trump has appeared more committed to nullifying his predecessor's legacy than to any affirmative political principle. The president campaigned on a promise to repeal Obamacare and expand access to affordable health insurance — but when these goals came into conflict, he opted for the former. Trump argued vociferously that rogue regimes must be blocked from acquiring nuclear weapons — then "decertified" an Obama-era nuclear agreement that did just that. He claimed to believe in regulatory policies that protect "clean air and clean water," then rolled back Obama-era rules aimed at that objective. Trump praised Janet Yellen's economic management — but still took the precedent-defying step of refusing to grant the Obama-appointed Federal Reserve chair a second term.
Nevertheless, for all his policy nihilism, the president can still occasionally put substance over spite, and admit that on this or that specific issue, Barack Obama actually had a point. Thus, on Tuesday the Trump administration celebrated the preservation of one piece of Obama's legacy.
In 2014, a federal district court ruled that immigrants detained while awaiting deportation proceedings were entitled to periodic bond hearings. The lead plaintiff in the case was a legal permanent resident of the United States, Alejandro Rodriguez, who was arrested as a teenager for joyriding and misdemeanor drug possession – and then jailed for three years, without ever receiving a bond hearing, as his lawyers (successfully) contested his deportation. The federal judge ruled that Rodriguez had a legal right to request to await trial outside of a detention facility. The Obama administration disagreed, arguing that the federal government has the authority to decide whether any individual immigrant should be afforded that right – or whether he or she is simply too dangerous for such due process – even if the person in question is a legal permanent resident or asylum-seeker.
Upon his election, Trump set aside his differences with Obama, and continued his predecessor's appeal. Even when the Ninth Circuit upheld the lower court's ruling, Jeff Sessions & Co. persisted in their defense of the Obama Justice Department's position.
And on Tuesday, the Supreme Court's conservative majority sided with the government in a narrow ruling: The justices did not rule that detained immigrants have no right to bond hearings under the Constitution; rather, they merely ruled that immigrants had no such rights under federal immigration law. As the New York Times explains:
The Ninth Circuit had ruled that bond hearings are required after six months to determine whether detainees who do not pose flight risks or a danger to public safety may be released while their cases proceed. The court based its ruling on an interpretation of the federal immigration laws, not the Constitution, though it said its reading was required to avoid constitutional difficulties.




Justice Samuel A. Alito Jr., writing for the majority on Tuesday, said that this interpretive approach, called "constitutional avoidance," was unavailable here, as the words of the immigration laws were plain. "The meaning of the relevant statutory provisions is clear — and clearly contrary to the decision of the court of appeals," Justice Alito wrote.
This ruling will send the case back to the Ninth Circuit, which will have the opportunity to assess whether the Constitution requires bond hearings for detained immigrants.
Three of the court's liberals opposed the decision, while Elena Kagan recused herself (due to relevant work she had performed as Obama's solicitor general). In an impassioned dissent, Justice Stephen Breyer insisted that the court should have reached a determination on the underlying Constitutional question – and ruled that all human beings in the United States are entitled to our founding document's basic protections.
"[W]ould the Constitution leave the Government free to starve, beat, or lash those held within our boundaries?" the Justice asked. "If not, then, whatever the [legal] fiction, how can the Constitution authorize the Government to imprison arbitrarily those who, whatever we might pretend, are in reality right here in the United States?"
"We need only recall the words of the Declaration of Independence, in particular its insistence that all men and women have 'certain unalienable Rights,' and that among them is the right to 'Liberty,'" Breyer wrote.
But thanks to the bipartisan efforts of the patriots in our Justice Department, the Trump administration will remain free, for the moment, to indefinitely imprison any legal immigrants and asylum-seekers it wishes to deport.
And Trump wishes to deport quite a few — although he'll need to get much more aggressive on that front, if he wishes to preserve the pace of deportations set by his predecessor.
But, as Tuesday's ruling demonstrated, with enough will and bipartisan cooperation, there's little the American government cannot do.
This article has been updated to more accurately describe the court's action.