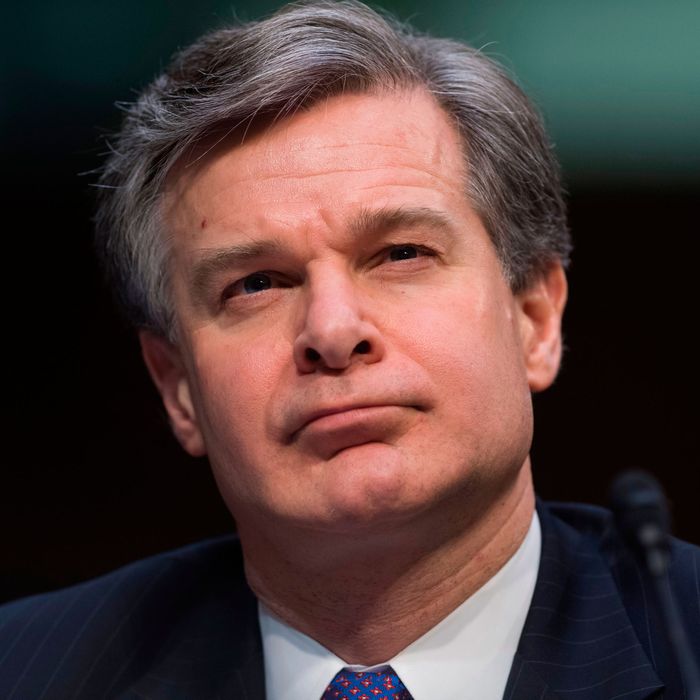 Wray of truth.
Photo: Saul Loeb/AFP/Getty Images
Over the past week, the Trump administration has struggled to decide whether Rob Porter is a man of "true integrity and honor," or a likely perpetrator of "shocking and troubling" acts of domestic abuse; whether he resigned or was terminated; and what John Kelly knew about his staff secretary's marital history — and when he knew it.
When the Daily Mail first publicized the allegations against Porter last week, the White House chief of staff defended his secretary's integrity. The following day, the Daily Mail published a second story on Porter's past, which included a photograph of the black eye he (allegedly) gave his ex-wife Colbie Holderness. Kelly then claimed to be shocked by these "new" allegations, and announced that he had "accepted [Porter's] resignation earlier today." Meanwhile, White House press secretary Sarah Huckabee Sanders insisted that Porter had not been forced to leave, saying, "I think that was a personal decision that Rob made, and one that he was not pressured to do, but one that he made on his own."
Days later, Kelly insisted that actually Porter had been fired — and that he had personally made that decision, almost immediately after learning of the second Daily Mail story. (This is inconsistent with a Politico report that shortly after that second story landed, Huckabee Sanders set up an off-the-record meeting between Porter and reporters, so as to allow the staff secretary to share his side of things.)
Throughout all of this, the White House insisted that it did not know the full extent of the allegations against Porter — a claim they supported by noting that the FBI had "not completed" its background check for the staff secretary. Alas, on Tuesday, FBI director Christopher Wray told the Senate that the White House had received a full background check on Porter last summer (one which would have mentioned the 2010 emergency protective order that his ex-wife Jennifer Willoughby obtained against him). The FBI then completed a follow-up, at the Trump administration's request, in November — and "administratively closed the file" on Porter in January.
Now, the White House needs yet another explanation of how, contrary to all appearances, the administration didn't knowingly employ a serial (alleged) domestic abuser — who was incapable of ever earning a permanent security clearance — in a top West Wing position.
This is obviously a disaster for John Kelly. Already, Kelly's rivals in the West Wing are whispering to reporters that his time might be up. But Wray's testimony points to a problem larger than both Porter and Kelly. After all, the former staff secretary was just one of dozens of administration officials working without a full security clearance. The ostensible justification for this state of affairs was that said officials were still awaiting the completion of their background checks; Wray's remarks suggest that, in many cases, those checks are complete — and the White House is simply ignoring their findings.