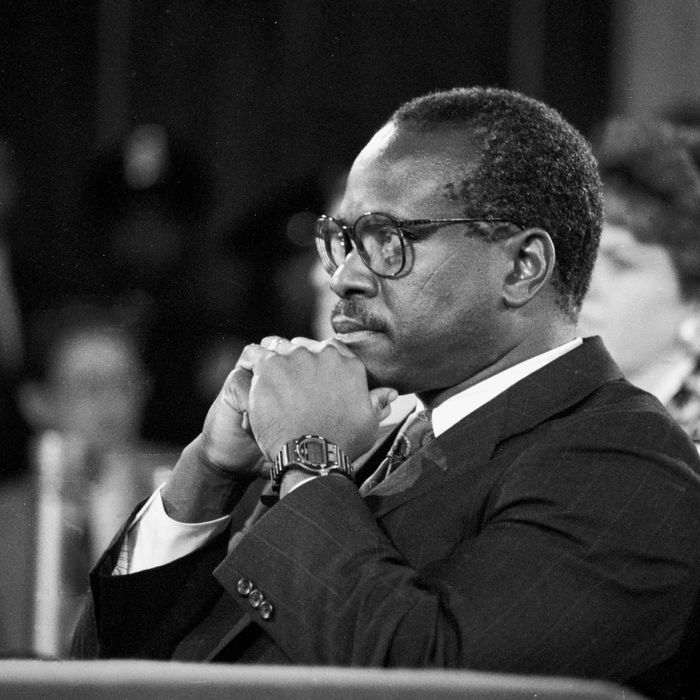 Clarence Thomas.
Photo: Bettmann/Bettmann Archive
During the 1991 hearings, EEOC employees Rose Jourdain, Sukari Hardnett, and Angela Wright accused their boss Clarence Thomas of having engaged in inappropriate workplace talk, which he denied. The three women weren't called to formally testify; instead, Wright and Jourdain were interviewed over the phone by members of the Senate Judiciary Committee and their staffs, and Hardnett submitted a written description of her experiences. Their interviews were very quietly entered into the record, without even some in Congress realizing the testimony existed.
Sukari Hardnett
If you were young, black, female and reasonably attractive and worked directly for Clarence Thomas, you knew full well you were being inspected and auditioned as a female. You knew when you were in favor because you were always at his beck and call, being summoned constantly, tracked down wherever you were in the agency and given special deference by others because of his interest. You knew when you had ceased to be an object of sexual interest — because you were barred from entering his office and treated as an outcast or, worse, a leper with whom contact was taboo. For my own part, I found his attention unpleasant, sought a transfer, was told one "just doesn't do that," insisted nonetheless, and paid the price as an outcast for the remainder of my employment at EEOC. That is why I resigned and left the EEOC. To maintain that Clarence Thomas's office was untainted by any sexuality and permeated by loving, nurturing, but asexual concern is simply a lie. Women know when there are sexual dimensions to the attention they are receiving. And there was never any doubt about that dimension in Clarence Thomas's office. I know it. Clarence Thomas knows it. And I know he knows it because he discussed some of the females in his office with me. I have told all of this to Senate staff.
Angela Wright
Clarence Thomas did consistently pressure me to date him. At one point, Clarence Thomas made comments about my anatomy. Clarence Thomas made comments about women's anatomy quite often. At one point, Clarence Thomas came by my apartment at night, unannounced and uninvited, and talked in general terms, but also he would try to move the conversation over to the prospect of my dating him. We are talking about a general mode of operating. I can remember specifically one evening when the comment of dating came up — it was when the EEOC was having a retirement party for my predecessor, Alf Sweeney, which I had organized for Mr. Sweeney at Mr. Thomas's request, and we were sitting at the banquet table while the speakers and things were going through their speeches. And Clarence Thomas was sitting right next to me, and he at one point turned around and said this is really a great job, blah-blah-blah, and he said you look good and you are going to be dating me, too. That was not like the only time he said something of that nature … I specifically recall being at a seminar, I can't even tell you which seminar, because we had many of them, when Clarence Thomas commented on the dress I was wearing and asked me what size my boobs were.
Rose Jourdain
[Angela Wright] told me he had come to her home one night unannounced, and she told everyone — for example, one time she came into my office in tears, said she had bought a new suit that I thought was quite attractive — it was just a regular suit for a person to wear to work, a woman to wear to work — and he had had, evidently, quite a bit of comment to make about it and how sexy she looked in it … She became increasingly nervous about being in his presence alone … I am older than she, and she came to me oftentimes to ask advice, what should she do? We are talking about a time when sexual harassment was not a thing that women were talking about, and how to handle this … I know that she had made it quite clear to him that she was not interested in developing a relationship with him outside of the workplace. [Another time] I am sitting in the office, she walks in, slams the door, and says, "Do you know what he said to me?" And I said, "No, what did he say to you?" You know, because it has gone on before … [He had said,] "Ooh, you have very sexy legs," or something like "You have hair on your legs, and it turns me on," or something like that. I thought it was nutty, you know what I mean? It was that, but it was very unnerving to a young woman who is sitting there hearing this.
Additional reporting by Amelia Schonbek
*This article appears in the February 19, 2018, issue of New York Magazine.