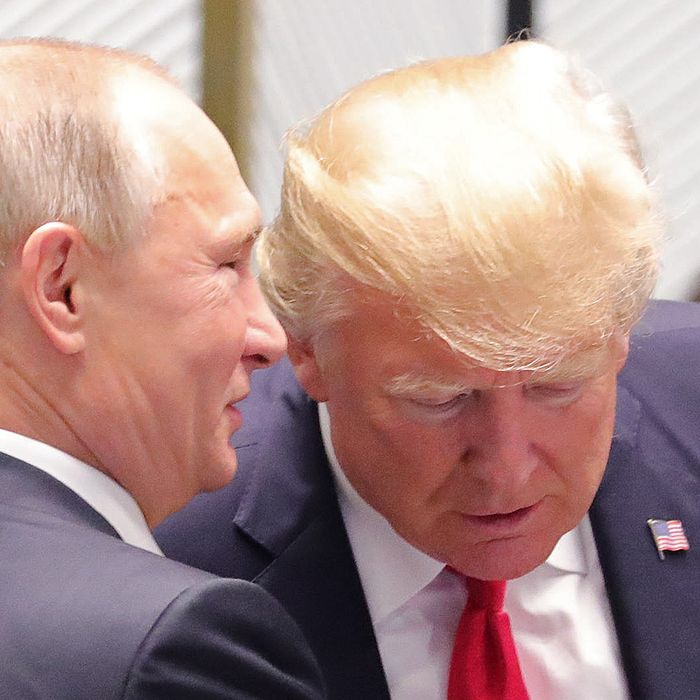 Photo: Mikhail Klimentyev/TASS
More than a month ago, conservatives rose up in coordinated demands to "release the memo." The memo, supposedly, contained breathtaking evidence of corruption in the Justice Department. The agents of the Deep State had allegedly used a partisan memo to spy on the Trump campaign, hiding its provenance. Fox News and numerous Republicans insisted the memo gave President Trump all the cause he needed to fire Rod Rosenstein and rein in Robert Mueller.
Republicans managed to delay the publication of a rebuttal memo by House Democrats for several weeks. The motivation for the delay is obvious. The Democratic memo lays waste to every important accusation made by Devin Nunes. (Or, to put it more accurately, made by Trump, via Nunes.)
Did the Justice Department rely on the Christopher Steele memo in order to surveil Carter Page? No, it did not. The FBI opened its counterintelligence investigation in July 2016. It received the Steele memo in September:

More importantly, when applying for permits to surveil Carter Page, the DOJ did not hide Steele's political motivations. It made clear he was working for a candidate opposed to Trump: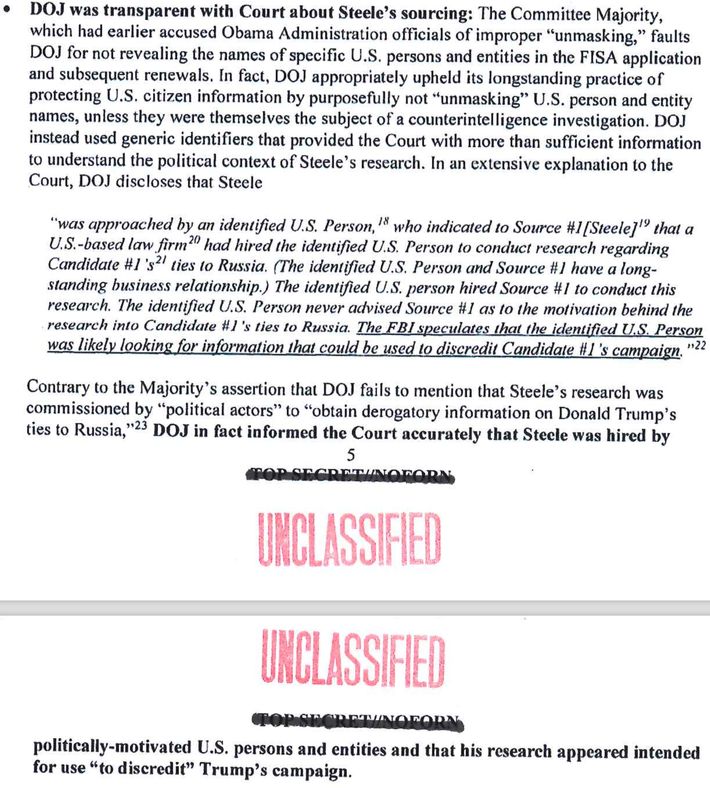 Unless these claims are pure lies, they demolish the basis of the Republican complaints that dominated media coverage for weeks.
The Democratic memo has been held up because of security concerns. Whether the length of the delay is fully justified by these concerns, or whether it was designed in part to allow the Nunes memo to go unrebutted, cannot be known. But the utter bad faith of the Trump administration and its congressional protectors is suggestive.
Amusingly, the redactions to the memo are not all effective. One passage, meant to be blacked out, reveals that no fewer than four Trump-linked figures were under investigation for covert ties to Russian intelligence:
Meanwhile, in related news, Jared Kushner's security clearance has been held up by "substantial issues … that still needed to be investigated." This almost certainly is related to Russia, to which Kushner has murky business ties.
So, while the evidence that the DOJ has been corrupt or even sloppy in its investigation has disintegrated, evidence for the seriousness of the investigation itself has grown progressively stronger. The president, at minimum, chose to surround himself with people deeply susceptible to Russian leverage. The Republican party has decided, for the most part, that it does not care to find out the answer.
The Conservative Political Action Conference today awarded its "Defender of Freedom" award to Devin Nunes who chairs the House Intelligence Committee. More to the point, Nunes has abandoned any pretense of overseeing the executive branch, and has thrown himself fully into the task of attacking and smearing any law enforcement function that threatens to touch the Trump administration. Nunes is Trump's leading goon in Congress. By the standards of the conservative movement, this renders him a champion of freedom, defined as protecting Trump from any accountability before the law.