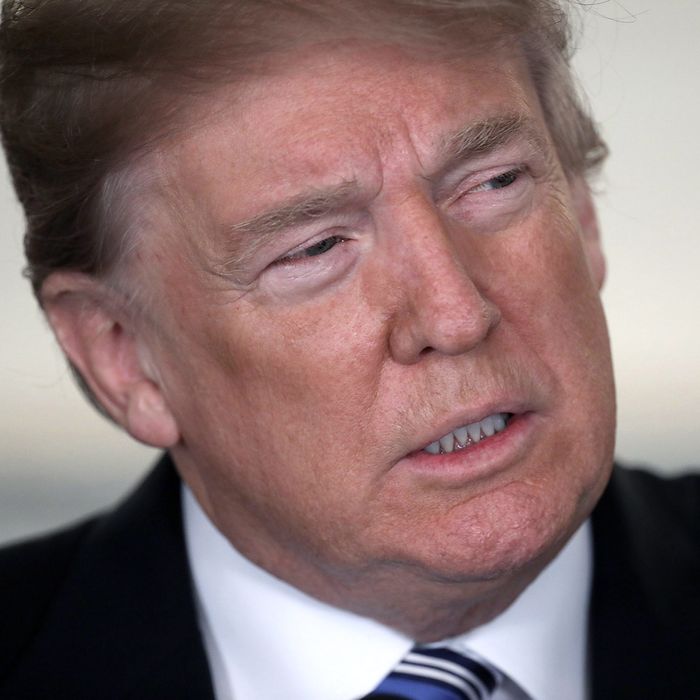 President Donald Trump.
Photo: Win McNamee/Getty Images
We have no idea if the wildest and most memorable allegation Christopher Steele picked up in his investigation of Donald Trump — that the future president is vulnerable to Russian blackmail related to his paying Russian prostitutes in 2013 — is true. There are two common grounds for skepticism. One is that Trump, who is known both for his affairs and for grabbing women, would pay for sex. The second is that a man so happily associated with infidelity and vice could be blackmailed at all. We now know neither of these objections holds water.
Ronan Farrow's new story shows that Trump habitually pays for sex. He had an affair with former Playboy Playmate Karen McDougal, and offered her money after sex, which she turned down. At another point in the story, he offered adult entertainer Jessica Drake $10,000 for "her company."
Farrow's reporting also implies, without quite establishing as an absolute certainty, that Trump maintained a system for silencing his sexual partners. A network of sleazy operators, sometimes working in conjunction with National Enquirer publisher David Pecker, Trump's close friend, would pay off women to prevent their stories from seeing the light of day. In any case, previous reporting by The Wall Street Journal has already established that Trump's personal lawyer, Michael Cohen, paid at least one of his former mistresses to stay quiet.
So, we know Trump habitually pays for sex, and we also know he is willing to pay to keep embarrassing secrets from going public. That is to say, these secrets could be leveraged against him. One of Pecker's former employees tells Farrow, "In theory, you would think that Trump has all the power in that relationship, but in fact Pecker has the power — he has the power to run these stories. He knows where the bodies are buried."
What else do we know? We know Russia has a decades-old system for gathering compromising sexual secrets on prominent foreign visitors. We also know Trump harbored a burning resentment of President Obama in the wake of Obama's mocking him at the 2011 White House Correspondents Dinner. And many reports of Trump's decision-making suggest that the strongest consideration in any decision is the chance to defile or destroy something associated with Obama.
Far from being bizarre, imagining Trump paying prostitutes to pee on a bed Obama used as a primitive revenge ritual, and Russians taping the episode, is perfectly consistent with what we know about both parties. That exact scenario may not have happened. Indeed, sex is not the only kind of secret Trump harbors. He endured months of criticism first from Republican candidates, then Democrats, and all along from the media, for refusing to disclose his tax returns. Trump clearly feels protective of his financial information. Some of that information is in the hands of his business partners, many of whom are associated with Russia or are unsavory in some other way. All in all, the odds are disconcertingly high that Russia, or somebody, has blackmail leverage over the president of the United States.