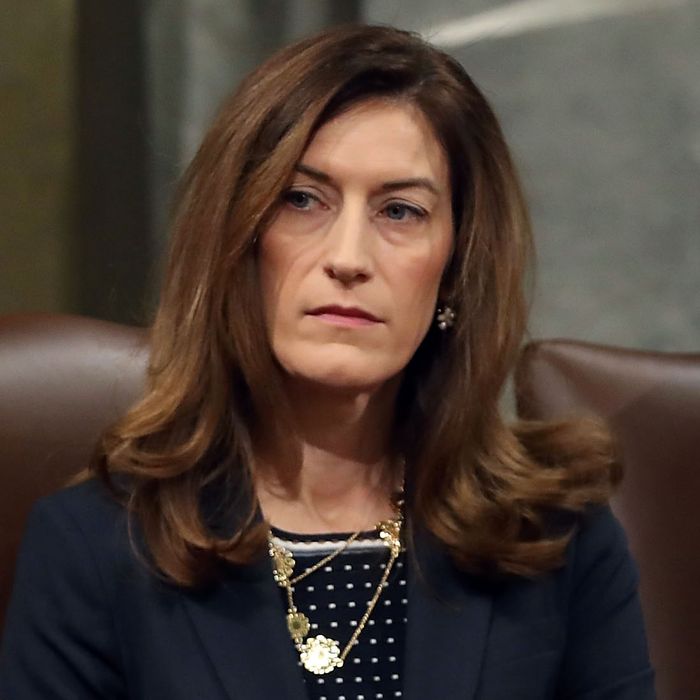 Brand, right, with Deputy Attorney General Rod Rosenstein.
Photo: Mark Wilson/Getty Images
The New York Times reported that Rachel Brand, who is third in line at the Justice Department behind Jeff Sessions and Rod Rosenstein, announced on Friday afternoon that she would be resigning her post after only nine months to become the global governance director at Walmart.
The news comes as President Trump keeps up his unprecedented public attacks on the DOJ and FBI, accusing the agencies of mounting a political campaign against him.
Trump has mused about firing Rod Rosenstein, who has overseen the Russia investigation into electoral interference since Attorney General Jeff Sessions recused himself. Rosentein appointed Special Counsel Robert Mueller, who continues to dig into connections between Trump and his associates and Russia. The Devin Nunes memo put out by House Republicans last week was seen as a possible pretext for Trump to get rid of Rosenstein, which would leave Brand in charge — a possibility that has seemed to appeal to Trump in the past.
Brand, who has served in the last three administrations as a political appointee and is widely respected, has mostly managed to stay out of the spotlight amid the president's Twitter rampages. It's not clear whether she resigned to avoid the prospect of an even higher-pressure role than her current position, or for some other reason.
But her departure raises the possibility that her role could be filled by a Trump partisan who may end up playing an essential role in the Russia investigation.