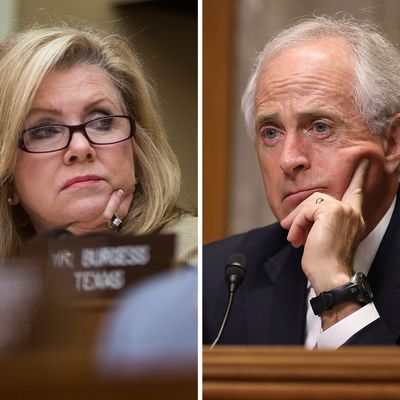 Bob Corker listening to advice that he ought to run for another Senate term after all. Designated GOP successor Marsha Blackburn is not pleased.
Photo: Getty Images
Tennessee Republicans are beginning to look like they are capable of screwing up a one-car funeral. They should be sitting pretty in this deep red state, which Trump carried by 26 points, and in which no Democrat has won a statewide election since 2006.
After two-term U.S. senator Bob Corker announced he would retire at the end of 2018, U.S. representative Marsha Blackburn emerged as far-and-away the GOP front-runner to succeed Corker. One of the Establishment Republicans with close ties to Trump and to hard-core conservatives, she was the obvious consensus candidate. But in December, the last Democrat to win a statewide race in Tennessee, former governor and former Nashville mayor Phil Bredesen, jumped into the Senate race, making it instantly competitive.
Given Tennessee's political environment, you had to figure Blackburn still had an advantage. But then a private poll began circulating, as reported by Politico:
The poll, conducted by Glen Bolger of Public Opinion Strategies for a Tennessee business group and obtained by POLITICO, shows Bredesen up 47 to 45, despite a sample that was overweighted with Republicans. The survey shows that voters preferred a generic Republican over a Democrat and strongly approved of Trump, signs that even in a Republican-leaning state like Tennessee, Blackburn is in for a tough race.
Blackburn also has her detractors in Tennessee, particularly those from the GOP's small but still influential moderate wing. And in the Senate itself, of course, incumbents mostly like other incumbents. So it's not surprising Bob Corker started getting quiet advice that he needed to reconsider his retirement.
He hasn't unretired yet, but if he does he will likely face a ferocious primary challenge from a furious Blackburn, whose spox didn't mince words:
"Anyone who thinks Marsha Blackburn can't win a general election is just a plain sexist pig," Andrea Bozek, a spokeswoman for Blackburn's Senate campaign, told the Washington Post. "She's the best fundraiser in the country and is beating Phil Bredesen in several polls. We aren't worried about these ego-driven, tired old men. Marsha has spent her whole life fighting people who told her she wasn't good enough and she will do it again."
It is not entirely clear whether "sexist pig" is being applied to Corker or to the men whispering in his ear, but you have to figure the "ego-driven, tired old" man is definitely the incumbent senator who won't stay retired. Blackburn's allies in the Club for Growth dusted off a January poll they conducted showing her trouncing Corker in a hypothetical primary by a 63/25 margin. And you have to figure that if Corker unretires and faces Blackburn, you-know-who will weigh in on Twitter. Here's what Trump had to say about the man just before he announced his retirement:
In the end, Corker voted for the GOP tax bill, after making a lot of negative noises about it on fiscal grounds. Maybe he knew even then he might change his mind about retirement. But his second thoughts may have arrived too late to save his Senate career. For Phil Bredesen, though, Corker's timing couldn't be better.