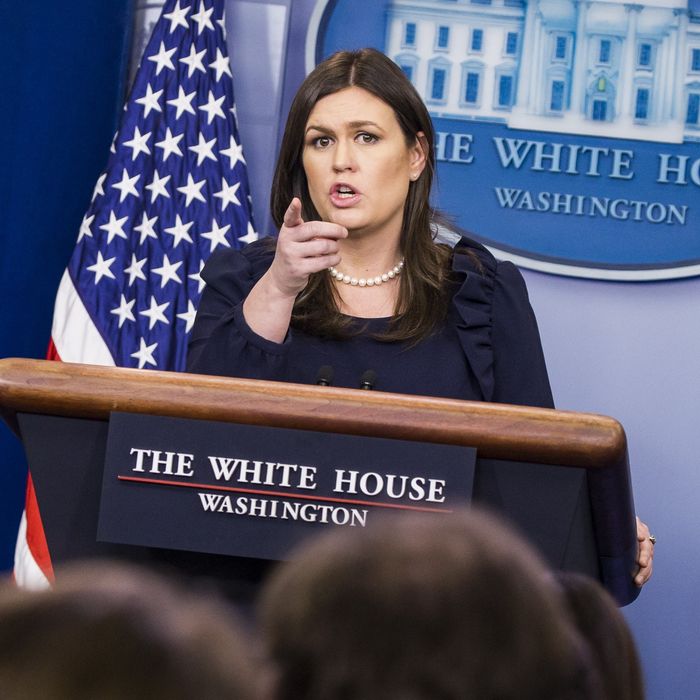 How dare they question the Trump administration's incoherent response.
Photo: Samuel Corum/Anadolu Agency/Getty Images
A day after White House staff secretary Rob Porter resigned following reports that his two ex-wives accused him of domestic violence, Deputy Press Secretary Raj Shah made a rare admission, saying the White House "could have done better" in its response.
President Trump was reportedly annoyed by this admission from Shah, who was filling in for his vacationing boss. When she returned for Monday's briefing, Press Secretary Sarah Huckabee Sanders reestablished the Trump administration's usual tone: indignation even when confronted by evidence of their own wrongdoing.
Sanders did agree that "there are things that we could have done better," but she proceeded to spin Shah's remark into a general commitment to make America a little greater every day. "I think every day we come to work and we hope to do a better job than we did the day before," she said.
Similarly, when asked to explain why President Trump stressed on Friday that he wishes Porter well and hopes he has "a great career ahead of him," Sanders suggested the president feels the same way about everyone who happens to be an American citizen. "The president wants the best for all Americans," she said. "The president hopes all Americans can be successful in whatever they do."
When asked why Trump's only public remarks on the matter focused on defending Porter and other alleged abusers, Sanders insisted that "the president supports victims of domestic violence and believes everyone deserves to be treated fairly and with due process."
Sanders then set about changing the official White House version of events yet again. Initially, she called Porter a man of "exemplary character"; when he resigned, she signaled no urgency, saying he'd stick around to ensure "a smooth transition." Yet on Monday Sanders backed up Chief of Staff John Kelly's claim that he acted "within 40 minutes" of learning the accusations against Porter last Tuesday. She would not explain why Kelly continued praising Porter for 24 hours, or reports that he'd known about the allegations for months.
When pressed on reports that, like Porter, dozens of White House officials are handling classified information though they only have interim security clearances, Sanders deployed Trump's favorite tactic: attacking the media.
"Frankly, if you guys have such concern about leaking classified information, there's plenty of it that has leaked out of the Hill, out of other communities, well beyond the White House walls," she said. "If you guys have real concerns about leaking out classified information, look around this room. You're the ones that publish classified information and put national security at risk. That doesn't come from this White House."
After Sanders's display of defiant obfuscation, on Tuesday night, White House counselor Kellyanne Conway took things a step further by quibbling with Porter's first ex-wife directly. Colbie Holderness used a remark from Conway to frame a Washington Post op-ed published Monday night. It begins:
White House counselor Kellyanne Conway said Sunday that she has no reason not to believe statements that Jennifer Willoughby and I have made about our ex-husband, former White House aide Rob Porter. I actually appreciated her saying that she at least did not not believe us.




But I was dismayed when Conway, appearing on CNN's "State of the Union," went on to say that she does not fear for White House Communications Director Hope Hicks, who has reportedly been dating Porter. "I've rarely met somebody so strong with such excellent instincts and loyalty and smarts."




Borrowing Conway's words, I have no reason not to believe her when she says that Hicks is a strong woman. But her statement implies that those who have been in abusive relationships are not strong.




I beg to differ.
The piece mainly consists of Holderness sharing her own experiences to challenge the widely held idea that "strong" women don't end up in abusive relationships. (Eric Trump has actually said his sister Ivanka would not allow herself to be sexually harassed because she's "strong" and "powerful.") But Conway felt the need to defend herself.
Conway did acknowledge that "many women get abused" when challenged by Tapper, but then she continued making her point that no one needs to worry about Hope Hicks, noting that she has "a great support system around her" and "a beautiful family, wonderful friends, colleagues, and a boss who respects and relies upon her tremendously."
When the Trump administration repeatedly defends an alleged abuser and deflects questions about people working in the White House without proper security clearance, the American people are supposed to be satisfied by vague assurances that the president "supports victims of domestic violence." But when a woman shares her story of abuse in an effort to shed light on a taboo subject, Trump's aide thinks it's important to carefully parse her own inept response.