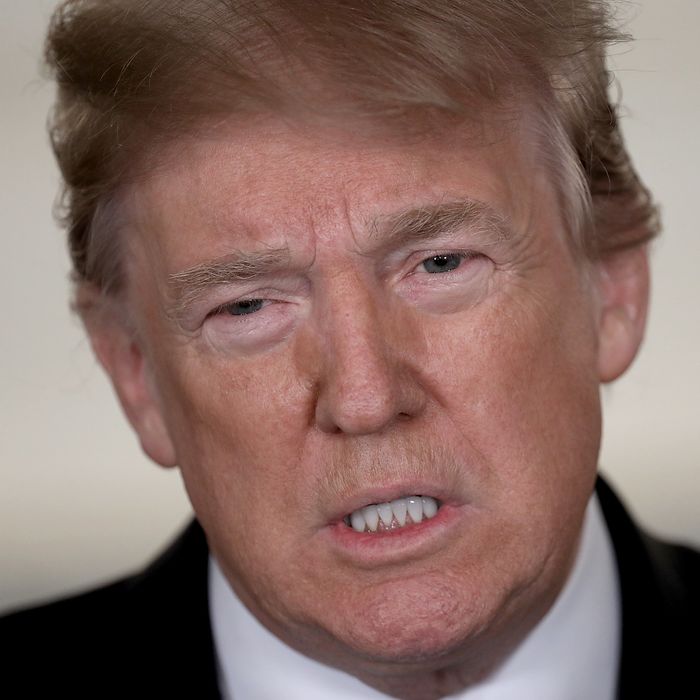 Is this a new low? It's hard to keep track.
Photo: Win McNamee/Getty Images
In a Saturday night tweet, President Trump falsely suggested that the FBI's attention to the Russia investigation left them unable to prevent last week's high school shooting in Parkland, Florida, which left 17 people dead: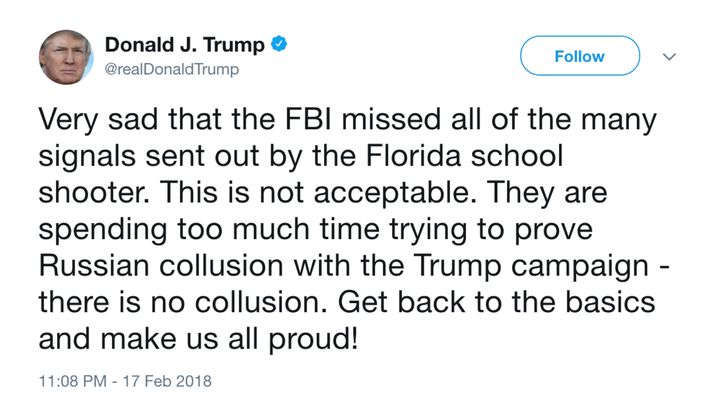 On Friday, the FBI acknowledged that it received a tip on January 5 regarding the shooter, 19-year-old Nikolas Cruz, but that protocol was not subsequently followed, and so the agency ultimately failed to follow up on the tip. The information, which was submitted by someone who knew Cruz and called an FBI tip line, specifically warned that Cruz owned guns, had a "desire to kill people," and might become a school shooter. The FBI also received an additional warning in September that a YouTube user with the name "nikolas cruz" had left a comment saying he was "going to be a professional school shooter," but agents were apparently unable to trace the comment back to anyone.
While the FBI clearly screwed up with regards to at least one of these warnings, and it's entirely possible they could have somehow been able to prevent Wednesday's shooting if they had followed protocol and investigated Cruz, there is absolutely no reason to believe that the FBI's failures had anything to do with the investigation into Russia's meddling in the 2016 election, and President Trump has offered no information to back up his claim that such a connection exists.
Instead, it's likely that the president is, once again, just amplifying partisan garbage he heard someone say on Fox News, as that is one of the places where this particular unfounded theory has been discussed, as well as one of the few places where Trump gets any ideas.
In response to the insinuation, one former FBI official told CNN's Jim Sciutto on Friday that, "I suppose the far-right is claiming the group of FBI agents on loan to Mueller's team should have instead been assigned to the Jackson Field Office to look into this YouTube post, but it's nonsensical."
But nothing is too nonsensical for President Trump, especially if it helps him tell others — and himself — that he was not the intended beneficiary of a foreign government's effort to destabilize America. Indeed, if anyone is going to be singled out for being so preoccupied with the Russia investigation that they are unable to think or talk about anything else, it would be this president, even in response to a tragedy like what just happened to the students and faculty at Stoneman Douglas. On Sunday morning, some of those students responded to the president's inexcusable comment:
This post has been updated to include responses to Trump's tweet from students at Marjory Stoneman Douglas High School.