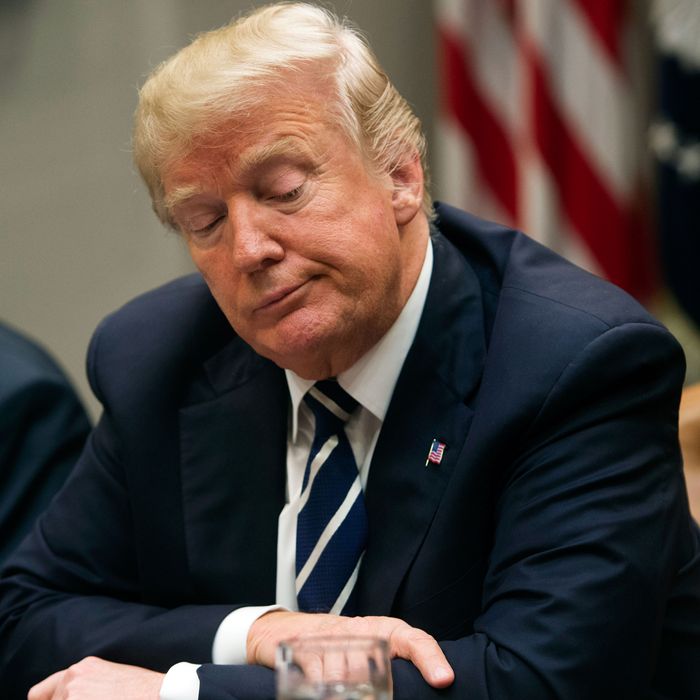 Sad!
Photo: Saul Loeb/AFP/Getty Images
President Trump won't be appearing on NBC Sunday for a pre-Super Bowl interview, breaking more than a decade of tradition that started with George W. Bush, CNN reports.
Trump continued the participate last year, when Fox had the rights to the Super Bowl and Bill O'Reilly conducted the interview a couple weeks into Trump's presidency. But now that the game will be shown on one of Trump's most hated networks, he's declined.
NBC executives have continued to push for Trump to do the sit-down and have left often his invitation despite the initial denial, CNN reports.
There's likely more to Trump's decision to skip the interview than his antipathy for the network that would broadcast it though. He's been careful to grant interviews to largely sympathetic audiences of late, sitting down with former Apprentice contestant Piers Morgan earlier this month and granting the bulk of his interviews in 2017 to Fox News.
An interview with NBC before the Super Bowl is unlikely to be the most hard hitting, but it would surely require him to answer for the insults he's lobbed at NFL players who protest racial inequality during the national anthem. That Trump wants to avoid that and get started on the bean dip is little surprise.