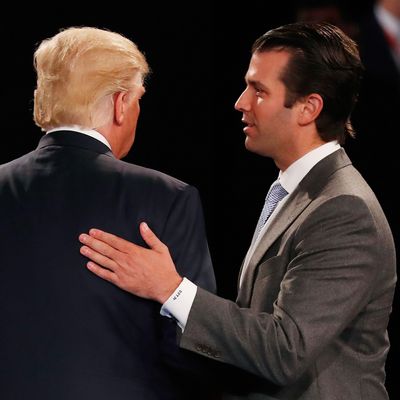 The business of the Trump administration is business.
Photo: Rick Wilking-Pool/Getty Images
The president of the United States owns a business with globe-spanning assets and liabilities. Many of his investments involve partnerships with entities closely tied to foreign governments; others rely on the cooperation of such governments (through permitting, zoning, and other such matters) for their profitability.
Donald Trump has, by his own account, spent much of his adult life trying to enrich himself through corruption: During his presidential campaign, the mogul claimed that he had routinely tried to buy policy favors from elected officials by donating to their campaigns.
Given these realities, many experts in government ethics believe that Trump had an obligation to take extraordinary measures to insulate himself from conflicts of interest once be became president — up to and including divesting himself from a wide range of foreign assets. Of course, Trump refused to do any such thing. Instead, he vowed to place his assets into what he referred to as a "blind trust," but was actually an entity that would allow him perfect knowledge of his holdings — and that would be managed by his adult sons, Eric and Don Jr. The president's sole concession to ethical propriety was the stipulation that neither Eric nor Don Jr. would have any role whatsoever in his administration.
"The company and policy and government are completely separated," Eric Trump assured the Washington Post last year. "We have built an unbelievable wall in between the two."
The key word there was "unbelievable." The president has never been willing to expend much effort on maintaining such a facade. In the first weeks after his election, Trump invited Eric and Don Jr. to a policy meeting with tech executives, met with his Indian business partners, and allowed his D.C. hotel to begin courting the patronage of foreign diplomats. In the first year after his inauguration, he mixed politics and business in ever more blatant ways.
But Don Jr.'s trip to India represents a kind of "coming-out party" for the Trumpist kleptocracy: According the the Washington Post, the manager of the president's "blind trust" will travel to Mumbai this week to promote his family's real-estate projects, sell access to himself for $38,000 a head, and give a foreign policy speech (ostensibly) on behalf of his father's administration at a global business summit:
Beginning Tuesday, Trump Jr. will have a full schedule of meet-and-greets with investors and business leaders throughout India, where the Trump family has real estate projects — Mumbai, the New Delhi suburb of Gurgaon, the western city of Pune and the eastern city of Kolkata.




Indian newspapers have been running full-page, glossy advertisements hyping his arrival and the latest Trump Tower project under the headline: "Trump is here — Are You Invited?" The ads also solicited home buyers to plunk down a booking fee (about $38,000) to "join Mr. Donald Trump Jr. for a conversation and dinner." Public relations executives working with two local developers arranging the Trump dinner declined to give specifics about the event.




During the visit, the 40-year-old Trump Jr., executive vice president of the Trump Organization, will take a break from his private promotional tour to give an address on "Reshaping Indo-Pacific Ties: The New Era of Cooperation" at a global business summit on Friday evening, co-sponsored by the Economic Times newspaper. [Indian Prime Minister Narendra] Modi will also speak at the summit … Later this week, Trump Jr. will travel to Mumbai to open the demo unit at the golden-facade Trump Tower being built by the family development firm of Mangal Prabhat Lodha, a state legislator in Modi's Bharatiya Janata Party.
To review: Donald Trump Jr. will be serving as a representative of both his father's business and government during this week's trip to India, and will be selling access to himself (and thus, ostensibly, to his father's government) for roughly $40,000 a pop.
But, hey — at least he won't be doing something truly scandalous, like, say, taking a meeting with a Nobel Peace Prize–winning economist who once donated to his spouse's charity.