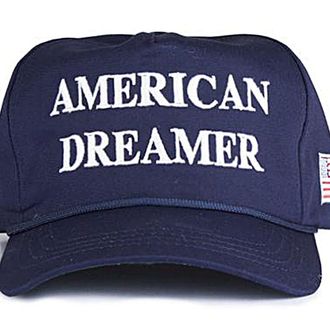 There was a line in President Trump's first State of the Union address that was immediately celebrated by some of his most overtly racist supporters.
"My duty and the sacred duty of every elected official in this chamber is to defend Americans, to protect their safety, their families, their communities, and their right to the American dream," Trump said. "Because Americans are dreamers, too."
It didn't take long for white nationalists to begin celebrating that last line, an obvious swipe at the labeling of DACA recipients as Dreamers.
Now Trump's reelection campaign and the RNC have put a version of it on a hat. Unveiled Wednesday morning, the "American Dreamer" hat features those two words in the same big, bold, capitalized letters that his "Make America Great Again" hats used. The back says "#MAGA," complete with unnecessary hashtag.
Here's how the Trump shop describes the hat:
We all want to live the American dream and our 45th President is helping to make that dream a reality for each and every American. With our American Dreamer Hat you can show that you believe we can Make America Great Again.
And the price to show that? Just $50.