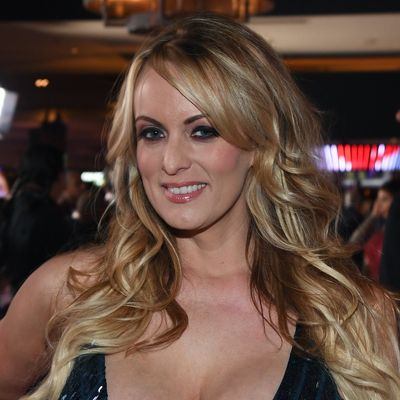 Maybe Cohen just felt like giving Daniels $130,000 for no reason.
Photo: Ethan Miller/Getty Images
Michael Cohen, President Trump's longtime personal lawyer, was widely mocked on Tuesday night when he released a statement that seemed to suggest he'd paid Stephanie Clifford — a.k.a. Stormy Daniels, the adult film star who once claimed she had an affair with Trump — $130,000 out of his own pocket, weeks before the 2016 presidential election.
"Neither the Trump Organization nor the Trump campaign was a party to the transaction with Ms. Clifford, and neither reimbursed me for the payment, either directly or indirectly," Cohen said. "The payment to Ms. Clifford was lawful, and was not a campaign contribution or a campaign expenditure by anyone."
In the full statement, Cohen says he's responding to a complaint filed with the Federal Election Commission that "alleges that I somehow violated campaign finance laws." While he insists that the allegations are "factually unsupported and without legal merit," nothing in Cohen's statement disproves them — unless one actually believes that he gave Clifford a massive sum of money for reasons that have nothing to do with his boss.
In complaints to the FEC and Justice Department filed last month, Common Cause, a nonpartisan government watchdog group, said there's reason to believe the payment to Clifford was an "unreported in-kind contribution" to the Trump campaign, as well as an "unreported expenditure by the [campaign] — because the funds were paid for the purpose of influencing the 2016 presidential election."
It may not be immediately apparent how money used to pay off a candidate's mistress that doesn't pass through the campaign could violate campaign finance laws, but a fairly recent political scandal addressed that very question. In 2011 former senator John Edwards was indicted on charges that he violated the law by having wealthy donors cover the expenses of his pregnant mistress, Rielle Hunter, in an attempt to cover up their affair during the 2008 presidential campaign.
As Thomas Frampton recently explained in a post on the Harvard Law Review blog, the Edwards case turned on whether secret payments count as a campaign "contribution" under the Federal Election Campaign Act of 1971 (FECA). He wrote:
FECA's definition of "contribution" in 52 U.S.C. § 30101(8)(A) includes "any gift, subscription, loan, advance, or deposit of money or anything of value made by any person for the purpose of influencing any election for Federal office." Importantly, there is no requirement that a "contribution" be labeled as such or that the money actually pass through a campaign's coffers: a third-party's payment of a candidate's campaign or personal expense qualifies as a "contribution," except where "the payment would have been made irrespective of the candidacy."
That last bit was the key to Edwards's defense. His attorneys argued there was insufficient proof that Edwards's wealthy pals wanted to help him conceal his affair from voters, rather than from his cancer-stricken wife. They noted Hunter accepted much of the money after Edwards dropped out of the race, and said there was no proof that she was about to share her story with the press. Edwards was ultimately found not guilty on one felony charge, and the jury was deadlocked on five other felony charges.
Finding a campaign-related motive wouldn't be a problem for prosecutors looking into the Stormy Daniels affair. Rumors about Trump's affair with Clifford had circulated for years, and she discussed them at length with InTouch in 2011. Documents obtained by the Journal show that on October 17, 2016, Cohen established a shell company and used pseudonyms to transfer the $130,000 to Clifford (though he blew his own cover by listing his real name as an "authorized person" for the company). Clifford was reportedly in talks with both Good Morning America and Slate at the time. "And then, about a week before the election, Daniels stopped responding to calls and text messages," said Slate's Jacob Weisberg. If the payment was about keeping the affair from Melania, why did it happen just before the election, rather than in 2011, when Clifford was dishing about spanking and Shark Week–inspired phobias?
If the point of the payment was to keep Clifford's tawdry tale from hitting the press in the days after the Access Hollywood tape, then it may have violated campaign finance laws regardless of where the money came from. Cohen using his "own personal funds" for the payment could be viewed as his donating $130,000 to the Trump campaign, far more than the maximum allowed donation of $2,700. Some noted that Cohen never denies that Trump was personally involved in paying Clifford or reimbursing him. There's no limit on candidates' contributions to their own campaigns, but if the money came from Trump the individual, rather than his campaign or business, he still would have been legally required to disclose it.
But what if Trump knew nothing about the payoff, and it was instead the work of a loyal employee committed to shielding his reputation even before he entered politics? The last line in Cohen's statement hints that might be the point of his seemingly absurd explanation. "Just because something isn't true doesn't mean that it can't cause you harm or damage," Cohen says. "I will always protect Mr. Trump."
The larger question is why Cohen felt the need release the bizarre statement in the first place. There may be a stronger case against Trump than there was against Edwards, but experts doubt federal investigators will pursue it. Even Common Cause vice-president for policy and litigation Paul Ryan (no relation to the House Speaker) acknowledges that's unlikely in this political environment.
"The FEC has been for years mired in dysfunction and now has a Republican majority of commissioners," he told USA Today, "and the DOJ is within the Executive branch of government headed by the president."
In this administration, potentially violating campaign finance laws by paying off a porn star isn't even the biggest scandal of the week.