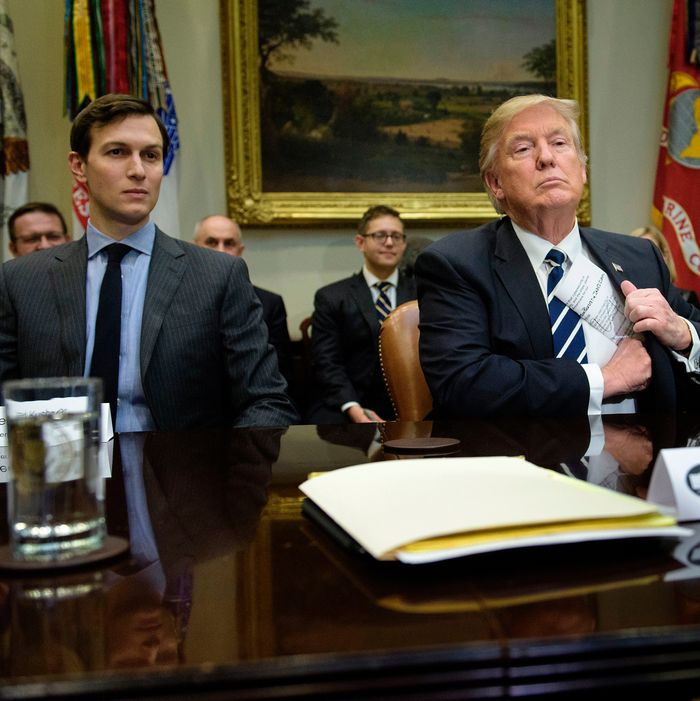 The best and the brightest.
Photo: Brendan Smialowski/AFP/Getty Images
Throughout his general election campaign, Donald Trump argued that mishandling classified information was such a betrayal of the public's trust and security, any official who did so was unqualified for the presidency — and fit for a prison sentence.
Throughout his presidency, Trump has allowed Jared Kushner — who repeatedly failed to disclose all of his foreign contacts to the FBI; is (ostensibly) a person of interest in an ongoing counterintelligence investigation; and was desperately seeking a $400 million investment from an entity tied to the Chinese government weeks before he moved into the White House — to access highly classified intelligence despite his son-in-law's persistent failure to pass an FBI background check.
The president has generally shrugged off these sorts of contradictions, like they were so many allegations of sexual misconduct. But in this case, Trump is (reportedly) reluctant to formally overrule the FBI on his son-in-law's behalf. And this rare concern with keeping up appearances is keeping Kushner locked in limbo.
Asked about whether his son-in-law would retain his interim security clearance at a news conference Friday, Trump replied, "That'll be up to General Kelly. General Kelly respects Jared a lot and General Kelly will make that call … I won't make that call. I will let the general … make that call."
But it's not clear whether Trump wants to defer to his chief of staff's judgment — or whether he actually wants John Kelly to do his dirty nepotistic business for him.
In the wake of his botched attempt to cover for an alleged serial domestic abuser, Kelly has been trying to reestablish himself as senior West Wing disciplinarian. Earlier this month, the world learned that the White House chief of staff had allowed Staff Secretary Rob Porter to retain his position — and his access to highly classified information — even after Porter had failed to pass an FBI background check, ostensibly due to that alleged history of domestic violence. In the ensuing weeks, reporters revealed that scores of White House officials were operating without permanent security clearances, with some using "interim" clearances indefinitely, as an apparent means of accessing information that the FBI had determined they shouldn't be trusted with.
Now, Kelly is moving to revoke top clearances from anyone who applied for a background check before June 2 of last year and still hasn't secured the Bureau's approval. Kushner fits that bill – and Kelly isn't inclined to cut the princeling a break. As Politico reports:
Kelly does not plan to recommend to the president that he grant Kushner a waiver, but he is unlikely to resign if Trump ultimately decides to do so, according to a person familiar with his thinking…The president is hesitant to intervene in the process due to the potential blowback he would suffer in the news media if he gives Kushner a pass, according to one White House aide …




… The issues surrounding Kushner's security clearance ratcheted up when Kelly learned in the fall that the White House security officer was unlikely to green light a permanent security clearance for Kushner any time soon as a result of information received from the FBI.
Even if Kushner weren't such a flamboyant security risk, he would have no business occupying his current post. The 37-year-old real-estate heir came to the White House with no experience in policymaking or expertise in geopolitics — and has nonetheless taken ownership of U.S. policy in the Middle East, and to a lesser extent, in Mexico and China. Those latter interventions have tested Rex Tillerson's nerves, and Kelly has long been inclined to circumscribe Kushner's role.
Nevertheless, so long as the president doesn't affirmatively endorse Kelly's verdict — and take action to enforce it — Kushner appears poised to continue perusing state secrets, and dictating U.S. policy in regions where he and his family have financial interests, unless or until Robert Mueller intervenes.
"If it starts preventing him from doing what he wants to do, he'll figure out a workaround," a senior administration official told Politico of Kushner's security clearance woes. "All of this stuff is basically just cosmetic talk."