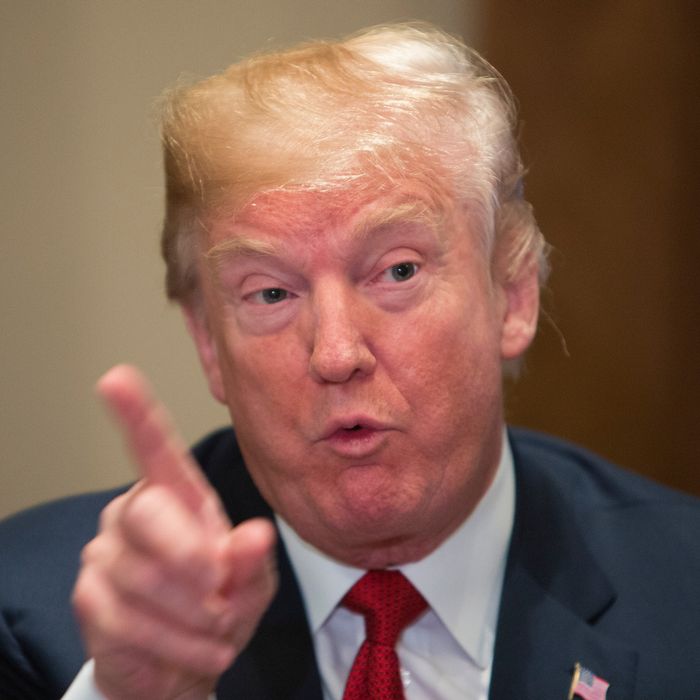 Calmer than you are.
Photo: Pool/Getty Images
A night after nonsensically (and disgustingly) blaming the FBI for spending too much time on the Russia investigation at the expense of preventing last week's Florida school shooting, President Trump continued to vent his spleen on Twitter. In the span of several Sunday-morning tweets, the president trained his ire at several familiar targets while, as usual, taking care to avoid slandering Russia.
Lowlights included: reviving a right-wing talking point about Obama and Iran, attacking "low ratings" CNN, and making a misleading assertion about Adam Schiff, the ranking Democratic member of the House Intelligence Committee.
Trump, who has opted against his usual weekend golf routine out of respect for those killed in the Florida shooting — leaving him more time to watch Fox News and tweet — also weighed in on Russia. Three days after Special Counsel Robert Mueller handed down 13 indictments that revealed a wide-ranging Russian plot to disrupt the 2016 elections, the president refused to acknowledge that the country had helped him in any way. Instead, he claimed that he had never denied its meddling, which is not true.
Last week, U.S. intelligence leaders warned Congress in no uncertain terms that Russia, having been wildly successful in its effort to destabilize America in 2016, will likely try the same routine in this year's midterm elections. Trump does not seem overly concerned with this possibility, which is to say he's not concerned at all.