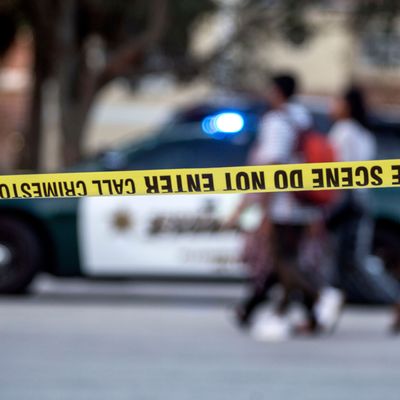 Outside Marjory Stoneman Douglas High School in Parkland, Florida.
Photo: Cristobal Herrera/EPA-EFE/REX/Shutterstock
Earlier this week, the Trump administration released its budget proposal for 2019. Included among the many programs that the White House wants to cut are several meant to enhance school safety and help communities recover from tragedies like the one that took place in Florida this week, Politico reports.
The budget reportedly cuts $24 million from national school-safety programs and would eliminate "project prevent grants," which are used to "serve students exposed to pervasive violence," according to the Education Department. In the past, these grants have funded services such as conflict resolution and "other school-based violence prevention strategies."
The budget also cuts funding from a program called School Emergency Response to Violence, or Project SERV, which was used to fund recovery efforts surrounding the 2012 Sandy Hook Elementary School shooting in Newtown, Connecticut.
So far, the cuts are only proposals from the Trump administration. Even if they don't become law, though, they serve as an indication of the White House's thinking.
Just this afternoon, Trump addressed the students who survived Wednesday's shooting, saying, "You are never alone and never will be. You have people who care about you, who love you, and who will do anything at all to protect you." But to Trump, "anything" does not appear to include funding the kind of programs that could potentially prevent another school shooting, much less changing the lax gun laws that help make the shootings possible.