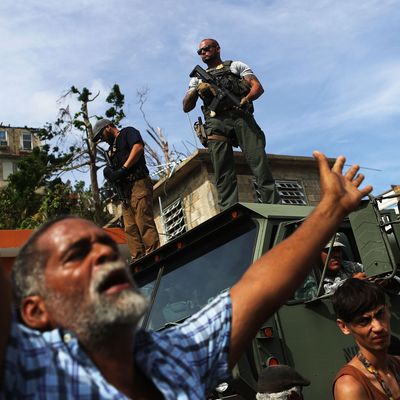 A resident of San Isidro pleads with others to make room as U.S. soldiers prepare to pass out food and water, provided by FEMA, to residents in a neighborhood without grid electricity or running water.
Photo: Mario Tama/Getty Images
In the aftermath of Hurricane Katrina, Congress launched a bipartisan investigation into how the Bush administration's response had fallen so fatally short. That probe found, among other things, that the Federal Emergency Management Agency had neglected to line up potential contractors in preparation for a major natural disaster — an oversight that led FEMA to rely on wasteful, fraudulent, or inefficient partners once the levees broke.
Now, some on Capitol Hill are beginning to suspect that FEMA made the same error under Trump, in the run-up to last year's devastating hurricane season. Cause for such concerns isn't hard to find. In November, the Associated Press revealed that the agency paid a single firm $30 million for emergency tarps and plastic sheeting — none of which was ever delivered.
And on Tuesday, the New York Times reported that FEMA handed off responsibility for providing Puerto Rico with much of its emergency food aid to "Tiffany Brown, an Atlanta entrepreneur with no experience in large-scale disaster relief and at least five canceled government contracts in her past." The agency struck a $156 million contract with Brown, which required her to deliver 30 million meals to hungry Puerto Ricans.
Mistakes ensued:
Ms. Brown, who is adept at navigating the federal contracting system, hired a wedding caterer in Atlanta with a staff of 11 to freeze-dry wild mushrooms and rice, chicken and rice, and vegetable soup. She found a nonprofit in Texas that had shipped food aid overseas and domestically, including to a Houston food bank after Hurricane Harvey.




By the time 18.5 million meals were due, Tribute had delivered only 50,000. And FEMA inspectors discovered a problem: The food had been packaged separately from the pouches used to heat them. FEMA's solicitation required "self-heating meals."




…FEMA insists no Puerto Ricans missed a meal as a result of the failed agreement with Tribute. FEMA relied on other suppliers that provided "ample" food and water for distribution, said William Booher, an agency spokesman.




But there is little doubt that in the immediate aftermath of Hurricane Maria, Puerto Ricans struggled with access to food. The storm shut down ports on an island that imports about 85 percent of its food supply. Farms were flattened. Supermarkets lost electricity and could not find diesel to run their generators. The stores that opened using generator power could not offer much from their understocked shelves.
This revelation about FEMA's less-than-stellar taste in contractors is only the latest testament to the gross negligence of the Trump administration's response to Puerto Rico's hurricane crisis — a negligence that predates the crisis itself. Days before Hurricane Maria made landfall, the White House learned that a Category 4 storm was likely to hit the island, and that the territory's electrical grid was unlikely to survive such an onslaught.
The federal government had time to deploy satellite phones to the island, to avoid the communications blackout that isolated remote areas from the territory's government. It could have delivered reserves of food, fuel, and water in advance of the storm, allowing local officials to spread those vital resources throughout the territory before Maria lay waste to much of its trucking infrastructure. Instead, the president did almost nothing in the lead-up to the storm — and went on a four-day golf vacation in its immediate aftermath.
This inaction almost certainly cost some of the island's (American) citizens their lives. For weeks after the storm, most of Puerto Rico lacked electricity, including its hospitals. Respirators stopped running. Dialysis clinics operated on generators and for limited hours. Medical supplies were scarce. Meanwhile large stretches of the territory had only limited access to food and potable water. Temperatures were high. Puerto Rico's population is disproportionately elderly, and its elderly population is disproportionately impoverished. These austere conditions killed far more people than Maria's winds.
When the president visited Puerto Rico, he told the island's residents that they should be very proud of the government's response — because it had spared them from suffering a "real catastrophe like Katrina." He (and Congress) proceeded to deny the catastrophically indebted island any significant relief funds, even while pushing through a $1.5 trillion tax-cut package, which includes provisions that directly undermine Puerto Rico's manufacturing sector.
There's been nothing subtle about the way this administration has failed the people of Puerto Rico. And yet, as the Times story demonstrates, the awesome scale of the failure is still coming into view.