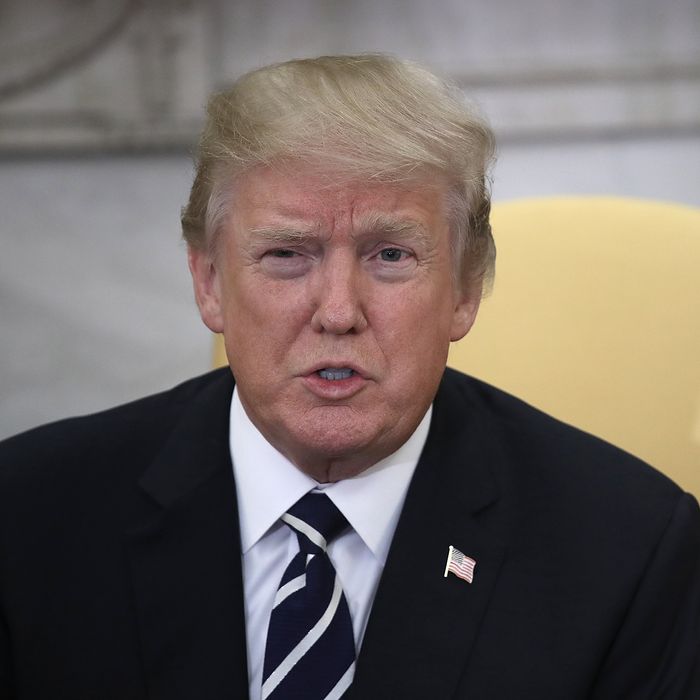 It depends on what the meaning of "truth" is.
Photo: Win McNamee/Getty Images
Late last month, President Trump declared that he's not only willing to answer questions from Robert Mueller, he's eager to sit down with the special counsel. "I would love to do it, and I would like to do it as soon as possible," Trump said, adding, "I would do it under oath, absolutely."
White House attorney Ty Cobb quickly intervened, saying Trump meant that he was ready to meet with Mueller's investigators, but would be "guided by the advice of his personal counsel."
Now the New York Times reports that Trump's legal team has reached an unsurprising decision: They don't want him talking to Mueller, especially not under oath. The worst-case scenario is that Trump's attorneys think he's guilty of some Russia-related crime. But the Times suggests there's a somewhat less damning explanation: They think the president of the United States is innocent, but incapable of telling the truth. "His lawyers are concerned that the president, who has a history of making false statements and contradicting himself, could be charged with lying to investigators," the paper reports.
This raises the possibility that Mueller might subpoena Trump to testify before a grand jury, which would likely spark a months-long legal battle that could be decided by the Supreme Court. That would also raise questions about why the president is suddenly unwilling to chat with prosecutors. They can't exactly point to a 2007 deposition in which Trump admitted to 30 lies under oath. The best explanation Trump's allies have been able to muster is that he's not quick enough to outfox a potential "perjury trap" from Mueller's team.
"The idea of putting Trump in a room with five or six hardened, very clever lawyers, all of whom are trying to trick him and trap him, would be a very, very bad idea," Newt Gingrich said last month on Fox & Friends.
Aside from Trump's well-documented penchant for lying, the president's attorneys must also deal with the strong possibility that their client is not, like, really smart. According to the Times, he's privately claimed he wouldn't just survive an exchange with Mueller, he'd find a way to exonerate himself: "The president has bragged to some aides that he would be able to clear himself if he talked to Mr. Mueller's team."
It appears the lawyers have been trying to use this Trump trait to their advantage, offering him obviously false information about the state of the investigation. The last paragraph in the Times piece reads:
Privately, people close to the president have conceded that assuring Mr. Trump that the investigation would end by a certain date was primarily aimed at keeping him from antagonizing Mr. Mueller on his Twitter feed or in interviews.
Ordinarily, the president's attorneys might be worried about the paper reporting on their efforts to mislead their client, but it doesn't seem like there's a high risk of Trump reading a Times story all the way to the end.